The beauty of an early Easter is soon the onslaught of egg-themed social media and witticisms will come to end. But for one last hurrah, we've got five great Easter brunch selections for your long weekend. What's on the menu? Eggs. More specifically: Eggs Benedict.
Pork Belly and Kimchi Eggs Benny at Anju, $16
It would be an absolute shame for any eggs benny aficionado to miss out on this amazing take on the brunch classic. Tender pork belly is layered under kimchi and traditional Benny accoutrements, proving once again that Anju knows exactly what they're doing when they break the mould.
Buffalo Chicken Eggs Benny at Cleaver, $15-$16
If you love Cleaver's sliders you're going to go gaga over their eggs Benedict options. This 50 seat spot serves amazing cock — their words, not ours — and that translates into their other poultry dishes, so our recommendation is to check out the buffalo chicken Benny.
cleavercalgary.com, @cleavercalgary
Canadian Benny at Sky 360, $23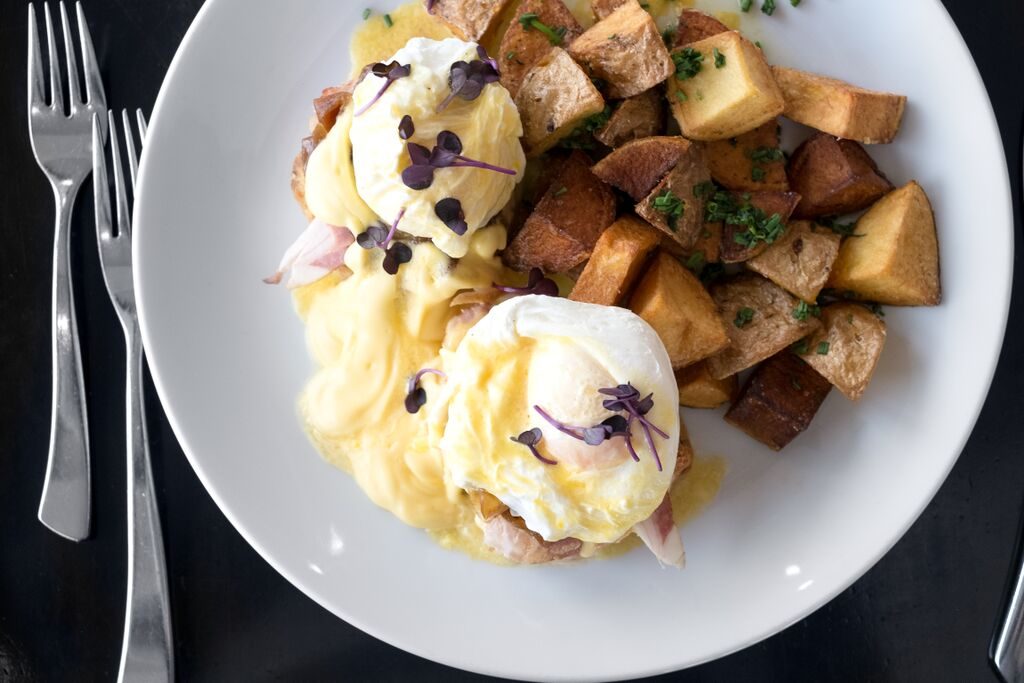 Feel extremely patriotic as you take a spin and dig into the Canadian benny at Sky 360 — the revolving restaurant atop the Calgary Tower. Topped with back bacon and served with a mountain of hash browns, the only other thing more salivating will be the panoramic views.
Mix and Match Eggs Benedict at Vendome, $11 for half or $16 for full
The eggs Benedict at Vendome are perfectly priced so you can sample two (or more) from their menu without breaking the bank. Maybe throw in a side of waffles to accompany them. It's a long weekend after all. If Mother Nature gives us a beautiful spring weekend, we recommend getting there early to grab a spot on this café's exceptional patio.
Eggs Benny and Breakfast Poutine at Diner Deluxe, Starting at $17
There's no excuse not to upgrade your Benny's hash browns to a Breakfast Poutine. Sure, Diner Deluxe's rosemary hash browns are amazing in their own right, but when you cover them in lemony basil hollandaise and legit Quebec cheese curds, this side perfectly rounds off a match made in brunch heaven.
dinerdeluxe.com, @diner_deluxe
Build Your Own Caesar at National on 17th + National Westhills, Starting at $12
OK, so this isn't entirely on theme, but if Benny isn't your buddy, we recommend checking out the Build Your Own Caesar (BYOC) bar at National on 17th and National Westhills. You can build the caesar of your dreams every Sunday from 10 a.m. to 3 p.m. Choose from traditional garnishes such as house-made pepperoni, pickled beans, and dill pickles or go big and pick from premium add-ons such as oysters, fried chicken, and even Clive Sliders.
ntnl.ca, @ntnl17, @ntnlwesthills
Looking for a long-weekend drink? We've given some of the vintage cocktails at Bridgette Bar our Vern stamp of approval.
By Fraser Tripp