Obviously, the food was good. The introduction to sake pairings was great. And the palpable feeling at Goro + Gun during the Kozaemon Brewmaster Dinner? Well, that electric energy couldn't be matched, making for an unforgettable experience at the sold-out event.
Everyone who had managed to get tickets was treated to impeccable service. Staff greeted each guest with a rousing chorus and my friends and I were promptly served with menus and drinks as soon as we were settled at our tables.
I overheard one especially happy table order Sake Bombs almost immediately, shouting with the staff, "Sake-Sake-Sake, Bomb-Bomb-Bomb!" while hitting the table with their fists to drop the shot into the glass before they drank in unison.
Moments after, the first of four courses was set before us with a Kozaemon Saura Nama sake pairing, general manager and sake expert Amane Kinae joined our table to explain how everything worked. This warm explanation was welcomed because, honestly, I have no idea what sake is, or how I'm supposed to drink it.
The Saura Nama was sweet, to which Kinae confirmed, "It will taste fruity — like melons." He explained how to drink it: "Swirl the glass, smell the contents, breathe in while the sweet drink sits on the tongue."
I liked it. And as it would turn out, the Saura Nama would be my favourite choice of the evening.
Kinae went on to explain why something like the Sara Nama was chosen for the first course, which included beef tataki and fresh river fish. "Because of the amino acid in the unpasteurized sake, it neutralizes the strong flavours on your plate," he says. I tried the fish again with this new information, sipping the sake afterwards and feeling like a pro.
Chef Tomo Mitsuno happily made his way through the crowd telling jokes and chatting about the food he and his team created for this special event, and the president of Kozaemon sake, who flew from Japan specifically for the event, made the night truly special by taking the microphone to tell stories about the legendary sake company.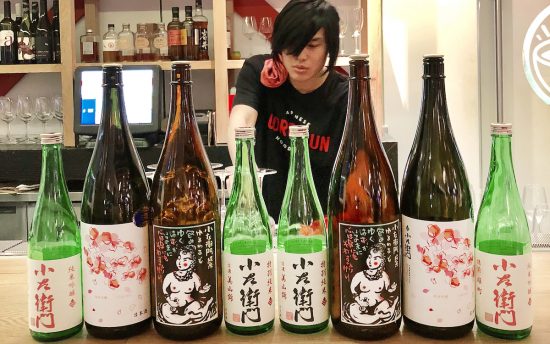 We continued with different Kozaemon sakes paired with fresh fish, roasted duck, and soba noodles. Sake Bombs chants continued sporadically while chatter and laughter filled the air. While my confidence grew in understanding sake and I left with a full belly, I'm convinced of Goro + Gun's ability to create an unforgettable night thanks to the amazing food, service, and company.
By Deanna Tucker
Want a crash course in sake and sushi? Check out this article to learn more!