Once in a while, there comes along something so infectiously inspiring you have to just stand back and be awed — Lance Cardinal's model replica of the creepy haunted house from the hit movie, It, is just that.
Lance is a member of the Bigstone Cree Nation in Calling Lake, Alberta, where he is in his fourth season as the founder and creative director of the Calling Lake Arts Academy, a multidisciplinary arts school for indigenous students.
During his 20-year award-winning career as a sculptural artist, director, producer, performer, model maker/miniaturist, concept artist, theme-park designer, choreographer, photographer and cultural healer, he has gained international acclaim as a set designer. Check out his incredible model of the Muppet Theatre.
His latest masterpiece is a miniature model of the house from the 2017 movie, It. Before we show you the process photos and finished shots, we had a few questions for Lance. (Scroll down to see the amazing pics of this miniature replica!)
Tell us about your latest to-scale model replica. How do you describe it?
This 1″ scale (or 1/12 scale) miniature is a replica of the "House on Neibolt Street" as seen in New Line Cinema's 2017 remake of the Stephen King's Novel, It. It is a replica of the movie set exterior which was built in Oshawa, Ontario. This miniature is 46″ wide, 30″ deep and 30″high and includes light-up interior and a full front yard and fences as seen in the film.
What draws you to creating these one-inch replica sets?
I have always loved miniatures. When I was a child I visited "Miniature World" in Victoria. I had never seen anything like it! It took me to a magical place, a microscopic world that allowed me to escape from reality and allowed me to live in my imagination. I still love this experience today. I also love pop culture, design, and collecting. This medium allows me to tap into these passions as an artist, collector and obsessive-compulsive fanatic! Plus, I'm a bit of a geek.
Before this piece, what was your biggest accomplishment in this medium?
I received some viral fame when I created my 1″ Muppet Show Theatre Replica in 2009. This was a scale model of the 1970s television show "The Muppet Show" and included the theatre and backstage. The Muppet Theatre made its way on to all the social sites, receiving over 1-million hits and still going! The miniature featured in magazines, local newspapers, countless online articles and even had a spot on Discovery Channel's, "Daily Planet." I received a personal letter and gift from the Henson Family as well, thanking me for creating an homage to the amazing Jim Henson. I was honored.
How did you learn to do this?
I began creating miniatures in grade 2 (35 yrs ago). I remember creating a working model of the yearly midway out of construction paper. I spent hours as a kid doing this, most of the time hiding from social bullying by escaping to the fantasy. I have always been very crafty and creative, teaching myself how to do almost everything I have leaned as an artist. Even in my professional career as a designer, I am always learning new things, inventing new ways to create and experimenting non-stop.
What drew you to the It house?
When I recently saw the film I knew I needed to make a replica of the creepy house. I always get a feeling when these ideas come to me. I see the finished work in my mind, I feel like there is a full "fuel tank" of inspiration (as I call it) and I become obsessed. I loved the production design of the film and wanted to capture a piece of it forever. Plus I love all things creepy, I love pop culture, and I love set design. Win, win!
Describe your workspace. Where do you create these masterpieces?
I have an office/studio where I do all of my creating. It has many workstations, surrounded by pop culture toys, collectible movie memorabilia that inspire and inform me. But I will create anywhere. All I need is a plug for a glue gun and a tap for paint water —and I'm good to go.
How do you source the building materials?
I try to use materials that I already have. Or I build them from whats in my house or office. If not, I try to buy inexpensive items from dollar store and second-hand stores. Miniature supplies can be very expensive and hard to find in central Canada, so I usually have to be creative. It's like a puzzle to solve. For example, I might walk around a dollar store and try to find miniature dead tall grass and Ill find a $3 broom with yellow bristles and viola, miniature supply! There are a few great miniature suppliers I use when I need moldings or fences or things that are too complicated for fabrication, but, I usually end up altering it anyway to match the project I am working on. My theory is, anything can be made from scratch — it depends on your time and patience.
How many hours did this take to build?
This model took two months of after work and weekends. I never count the hours, but its a labour of love. Since I have no kids or pets, this is where my spare time and money go.
What is your goal with this piece?
I actually would love to get this model (and myself, of course) to the Hollywood premiere of It: Chapter 2, which come out in 2019. I have contacted Stephen King and some of the designers of the first film to try and make this goal a reality.
Of course, I would love to also be involved in this industry and specifically this film but it is often difficult to get into the film world, especially as a Canadian citizen. But I never give up on my dreams and goals. I have always been a self-made, successful entrepreneur, pushing for what I want and never giving up. So, I want to show other artists, and especially indigenous Canadians, that no matter where you come from and what your nationality, social class, location or obstacles, you can achieve your dreams. I am proof of that!
Does being a First Nations artist affect your art; have you had an impact on your community through your art?
As an indigenous person in Canada, there are already many obstacles, social expectations, discrimination and oppression that happen every day to our people. As an artist, I feel like art, regalia and traditional mediums are mediums that connect all people and even bring reverence to indigenous culture.
I have brought arts into my community and it has given our people the opportunity to express themselves on many social issues that may not have gotten exposure otherwise. Self-expression and understanding are key for an oppressed society. Through art we can share our ideals with the younger generations, bridge the gap between indigenous and non-indigenous people and heal our damaged Nation.
Anything else you'd like to add?
Please check out my personal blog, which includes this miniature along with these other miniatures.
This is one of my favorite quotes that always reminds to keep believing in magic. "A person should set his goals as early as he can and devote all his energy and talent to getting there. With enough effort, he may achieve it. Or he may find something that is even more rewarding. But in the end, no matter what the outcome, he will know he has been alive." –Walt Disney
Process and Finished Shots With Captions by the Artist, Lance Cardinal
Just For Reference, Here's a Picture of the Original House
And Lance Cardinal's Finished Replica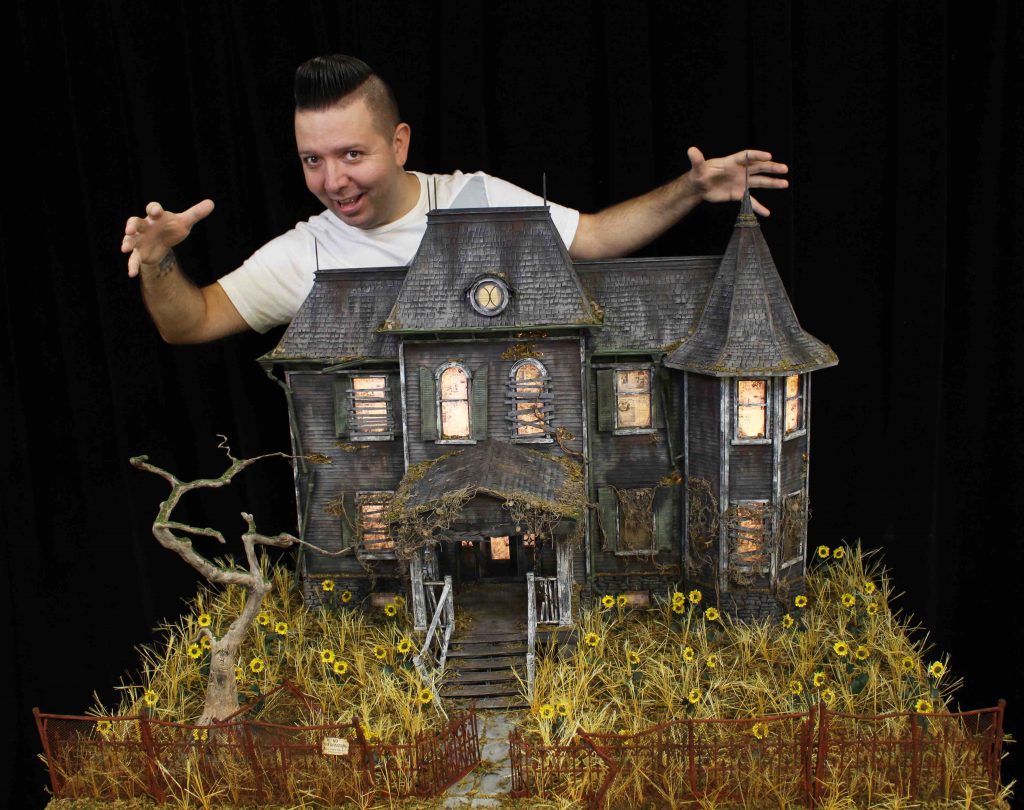 Help Lance get to Hollywood for the premiere of the sequel to It and share this article widely! He's doing Alberta proud!
Get inspired by another local artist, Talee. Click here to see Talee's gorgeous jewellery designs.
Interview by Ricky Zayshley