If you pay a visit to the Inglewood Community Centre on a sun-kissed summer night, you might be lucky enough to witness a tight-knit group of bicycle enthusiasts partaking in what could easily be lauded as the world's least pretentious, most badass sport.
Bike polo (or cycle polo) is touted by Britain's Telegraph as "the most popular sport you've never heard of." While it's traditional grass-played form originated in Ireland, interest in the hardcourt variety has grown exponentially in recent years across the world, Calgary included. '3v3' is the version usually played in Inglewood, consisting of two teams of 3 players, with timed games lasting around 10 – 15 minutes.
As spectators, we're instantly hooked. The game is fast paced and friendly; a collision that lands two players entangled on the ground, with wheels visibly mangled, ends in loud affable laughter as opposing teammates work together to fix the broken bike.
Vern caught up with Jessica Arndt, one of four organizers of the Calgary Bike Polo Club to pick her brain about our new favourite sport.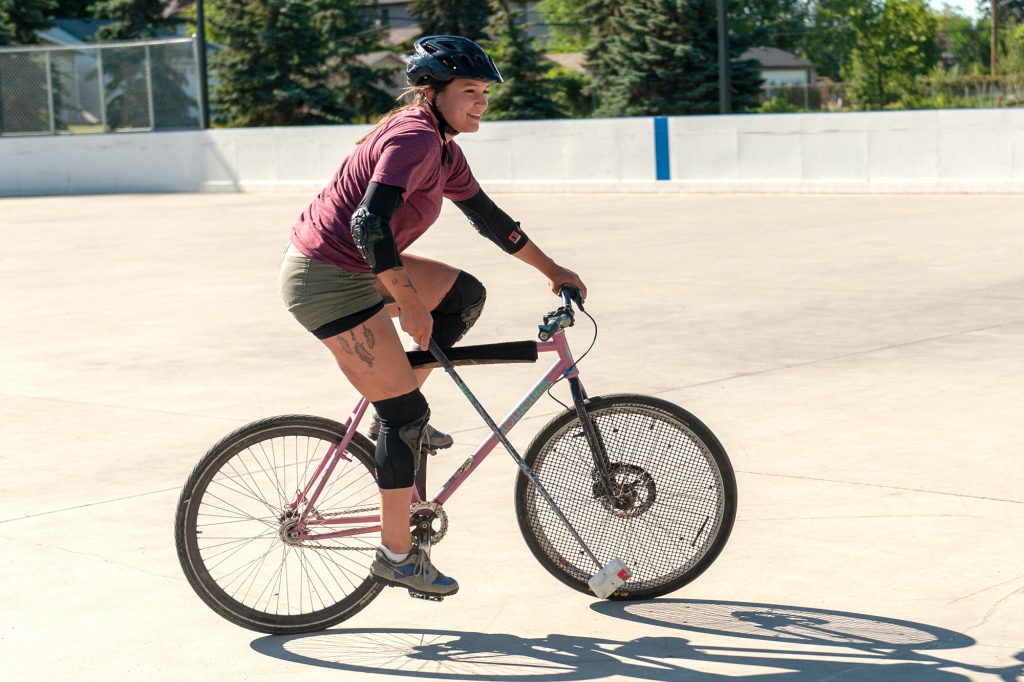 What prompted you to start playing bike polo?
I started out cycling as a commuter, then after a while I became a bike courier. I was introduced to the bike polo world afterward, which I thought looked super fun, but intimidating. I became friends with one of the guys who played often and he showed me how to play polo. Eventually, with the help of a few other club members, I was able to build a "polo bike" from an old mountain bike frame. And from there I bought an actual polo frame and have not looked back since!
Do you only play hardcourt?
Yes, chipping balls around on the grass has never caught my interest…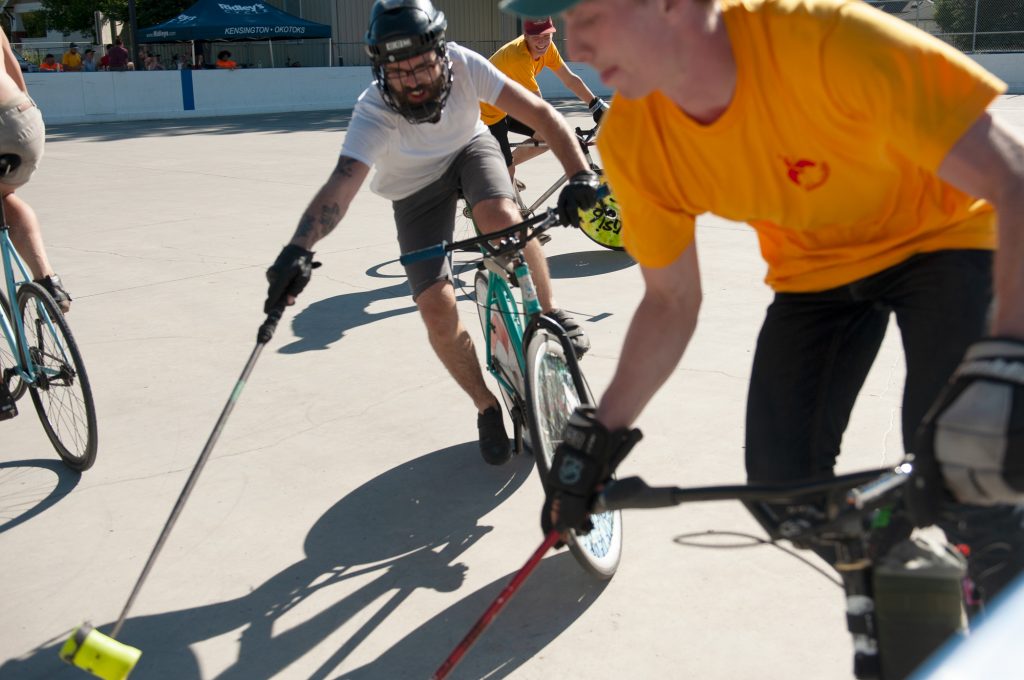 Is there a specific type of bike you need to play?
You can learn on any type of bike! It's easier if it is a single speed with a lower gear ratio but that isn't the most important part of learning. Eventually as you grow as a player you will want a smaller wheel base, a low gear ratio, and front brake. This will help transform your bike handling skills and further, your ball handling will improve!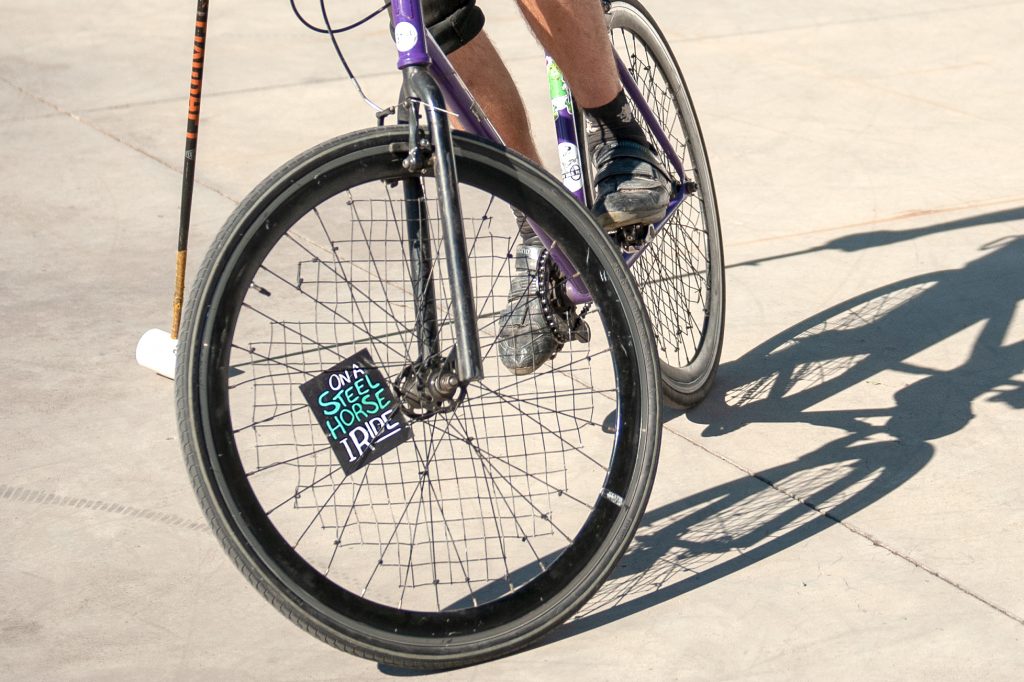 Are injuries common? Are there any regulations in place in YYC?
I think injuries are common for the players out there who aren't afraid to play rough. Some of us get minor injuries (cuts, scrapes, bruises) almost every day, while others have never ever been injured! It depends on your style of play. The first time I ever watched hardcourt polo a fellow courier of mine smashed his chin and voice box open on the boards … pretty intense stuff! Thankfully, I have never had such an injury. As for the regulations … I do my best to bother everyone in Calgary to wear a helmet. In any tournament you MUST have a helmet on, among other regulations that make your bike safer for the players around you. Calgary encourages helmet use but people still don't use them all the time.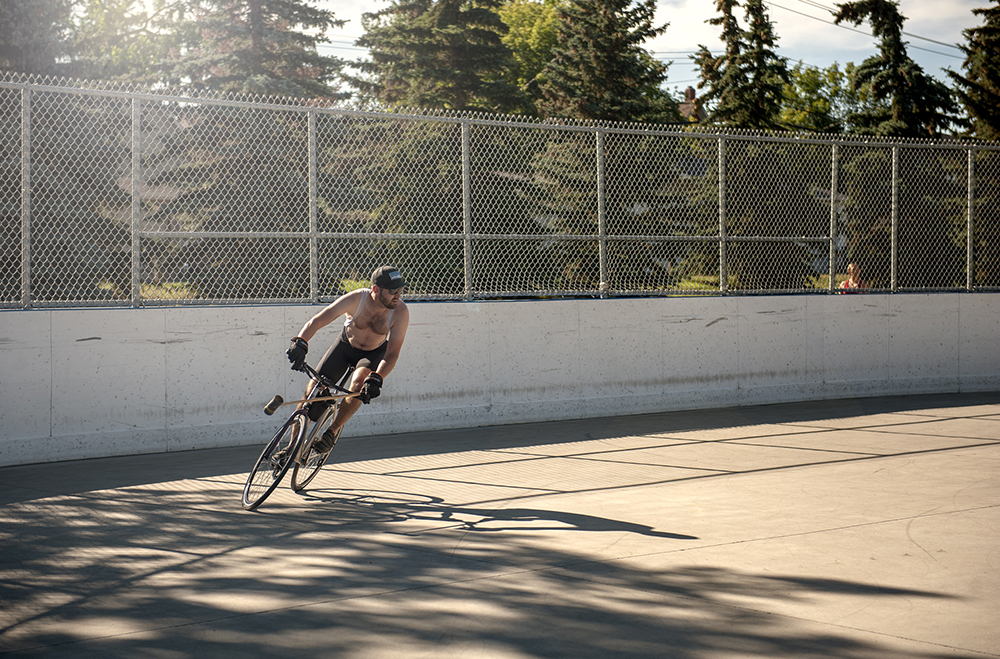 What prompted you to start the Calgary Bike Polo club?
I do a lot of organizational tasks for our committee but definitely did not start the Calgary Bike Polo Club. It's been around for quite awhile before me! Calgary hosted North Americans in 2011. But clubs tend to grow and die as players get older and begin doing other things with their lives. It's important to bring new players into the club, which has been a focus of mine for the past two years. I may not have started the club but I hope to keep it alive!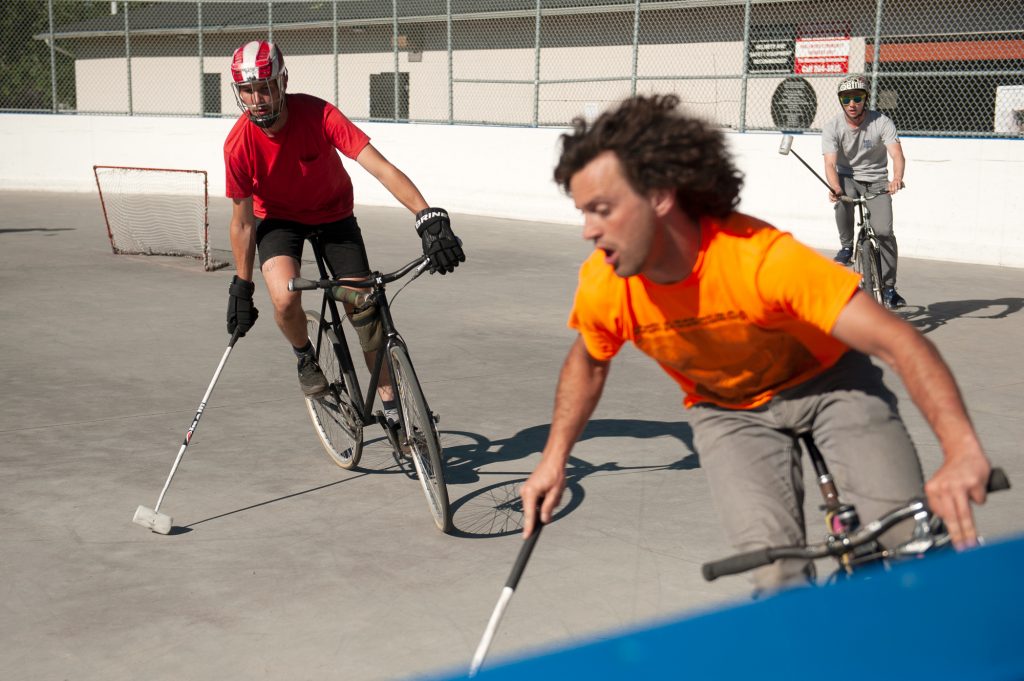 Do you only play in Calgary?
Calgary is my home club, all my practice is done here. But I am extremely passionate about playing tournaments, so I travel as much as possible to meet new people and grow as a player. Bike polo initially brought me first to Saskatoon and Vancouver, but now I am travelling to many different cities in the United States; I'm currently down in Indianapolis for a tournament called Slaydy Hawkins.
It's a goal of mine to travel to Australia and Europe to play – hardcourt is played all around the world. Even Alaska has a well-known tournament!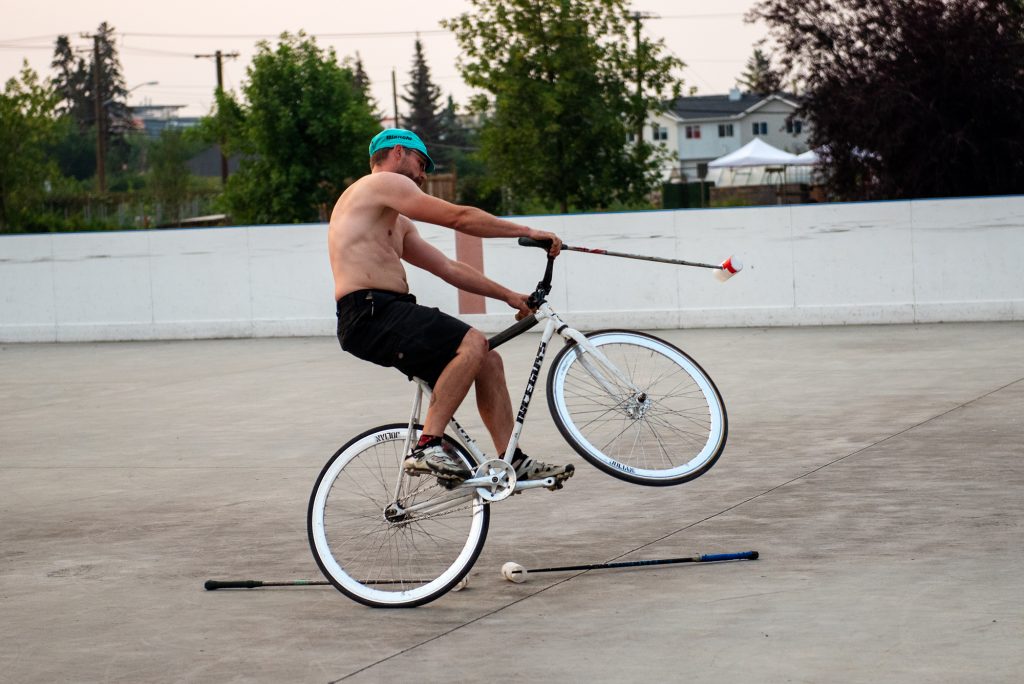 What's your favourite thing about the sport? Your least favourite?
My favourite thing about bike polo is probably that it's a mixed gender sport. I grew up with three brothers and three male cousins, so I have been used to getting along with the guys on the court – playing with women was a bit different for me at first but they are slayers! There are so many badass women out there in the polo community. It's been so amazing getting to know as many of them as I can and feel their love and support for one another.
My least favourite thing is probably that the next world's format is three versus three … I definitely prefer squad format (five versus five) with longer games and a larger team.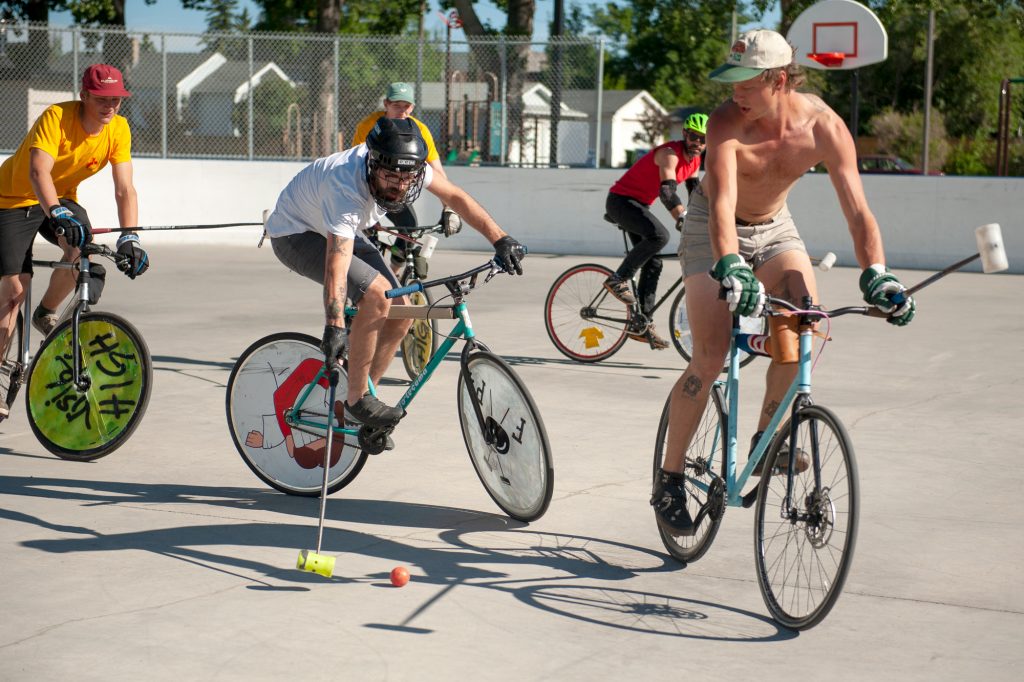 Have you ever played traditional polo? You know, on a horse?
No. I'd love to try though, horses are so fun to ride!
Anything you want to add that us Vern-ists need to know?
Bike Polo has an amazing community that offers a place for anyone, whoever you are or may become. The sport has a learning curve but the people are welcoming and are there to help. It doesn't matter if you have a background in riding bikes or playing team sports, anyone can play bike polo.
Also, everyone at Vern agrees that the Calgary Bike Polo logo rules!
Shout out to our pal Willis Hoff for his design!
Click here for more info on YYC's Bike Polo Club.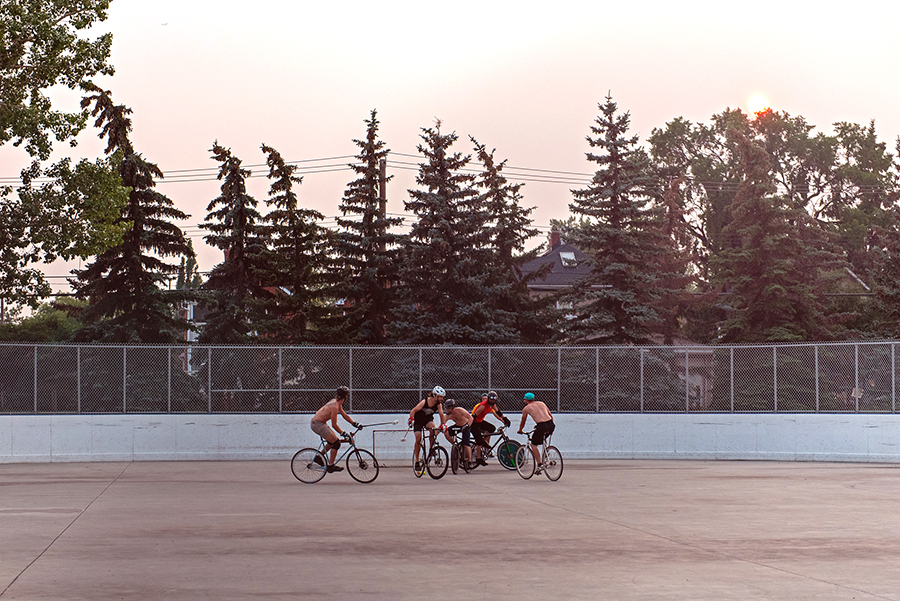 Intro and Photos by Heather Saitz