From the tried-and-true classics to the newest menu items, here are 26 foods and drinks we'll be devouring all summer long.
1. Mango Mania from Mango Mania ($8)

It seems impossibly jam-packed with all the things you (now) love in a drink: mango juice, mango jelly, mango juicy pearls, mango mochi and mango chunks, but somehow they manage to fit it all in the albeit mega-sized cup. Pair it with one of their pork belly baos, and you'll be in heaven.
1115 Centre St. N, mangomaniayyc.com
2. Seafood Curry Ramen Nest from Anju ($26)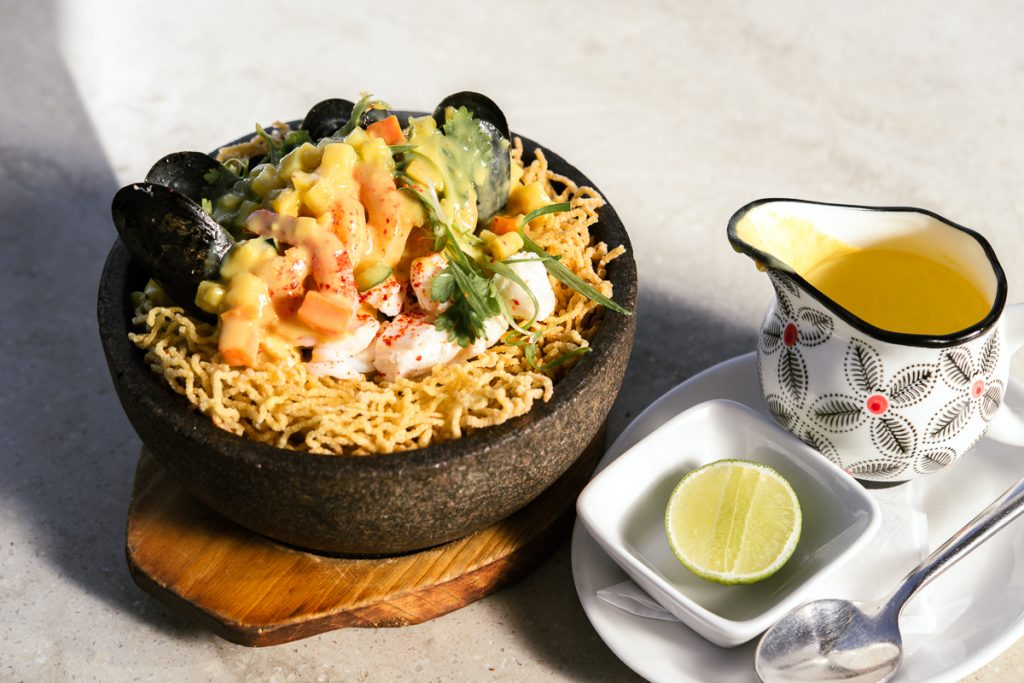 Every ingredient in this dish is our all-time fave, so when they come together it's basically heaven. Loads of squid, prawns, clams, zucchini, carrots and crispy noodles are served alongside a coconut curry that you pour over everything. Are you losing your mind yet? It's one of the most flavourful dishes in town, and you'll be craving it constantly all summer long.
344 17 Ave. SW, anju.ca
3. Salsa Taster at Native Tongues Taqueria ($9)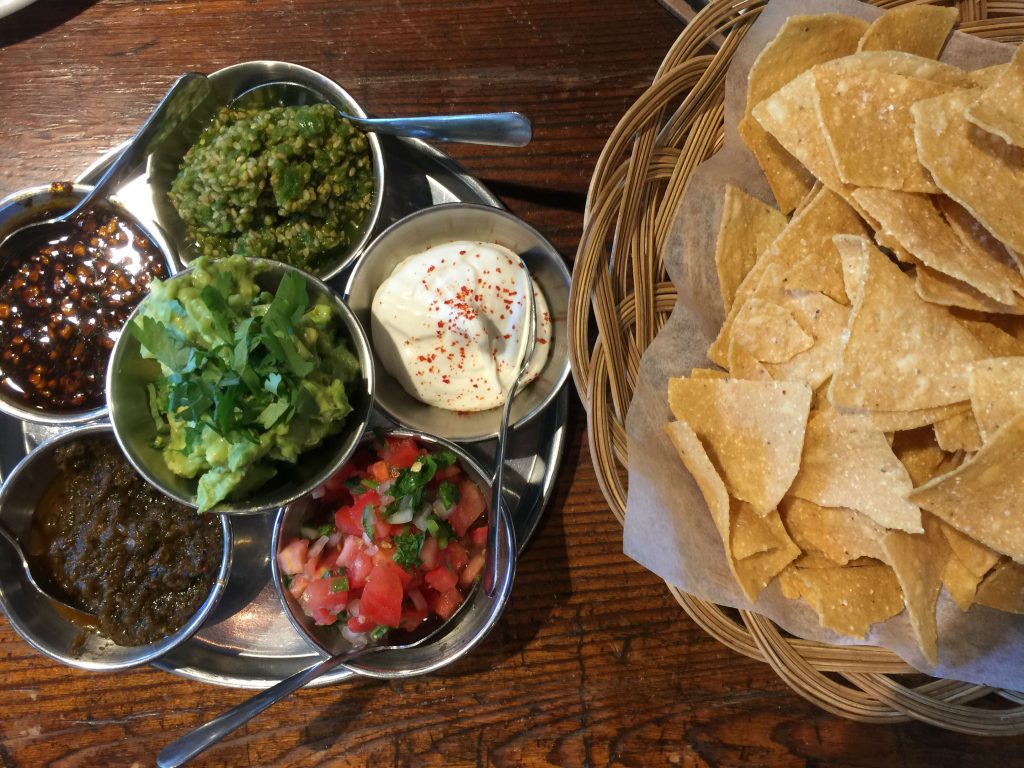 The moment you take a seat at this Beltline hotspot, order this platter to nibble on while you peruse the menu and have a drink. It consists of four incredibly fresh house-made salsas — salsa negra, salsa fresca, salsa macha, fermented serrano — and the thick and rich crema, which you can add to every bite. Ask for an additional side of guacamole — you might also need a refill on the chips to get through all of this.
235 12 Ave. SW, nativetongues.ca
4. Rosé Adult Slurpee at National ($13)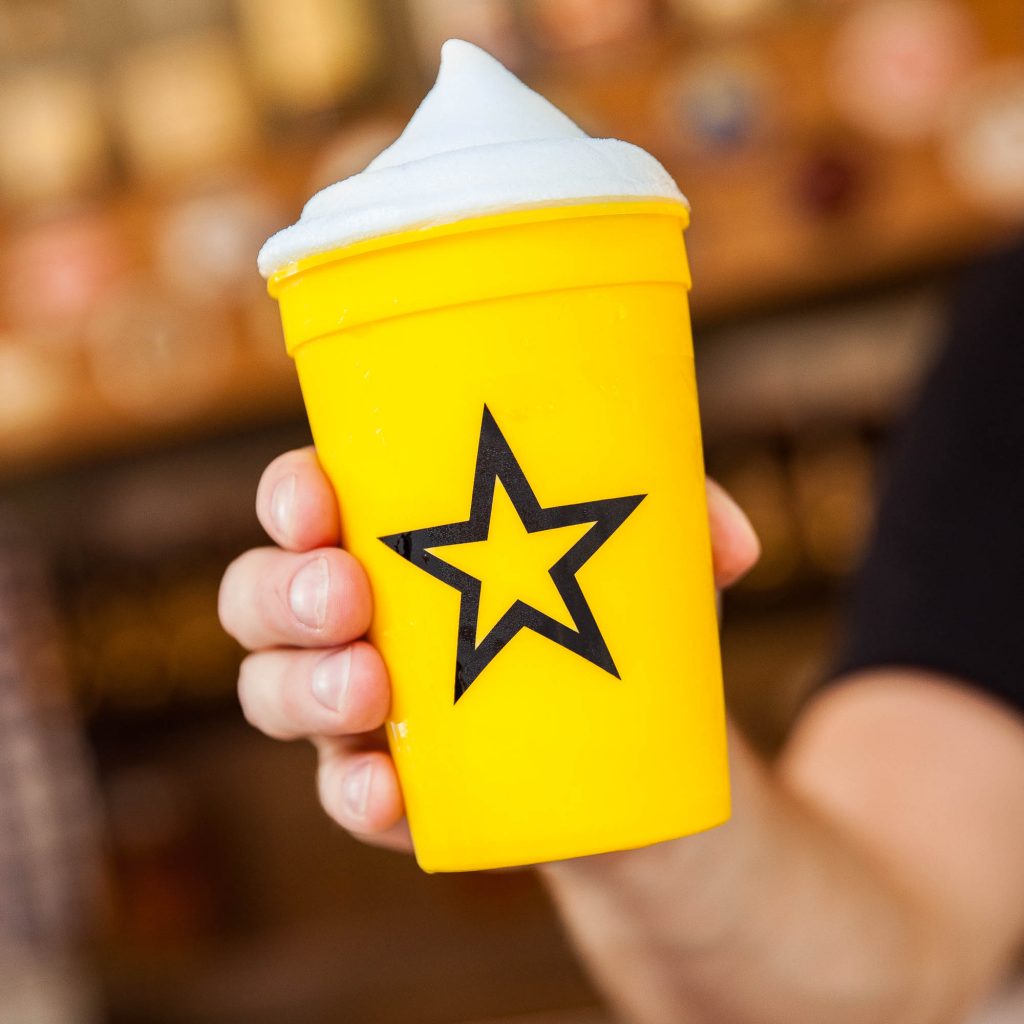 This isn't the cream-soda variety of your youth. It's much, much better. Rosé wine and gin come together in sweet harmony for a slushy treat that you'll want to drink on one of National's prime patios all summer long.
341 10 Ave. SW, and three other Calgary locations, ntnl.ca
5. White Cheddar Popcorn from Poko Popcorn
Elevate your outdoor entertainment experiences from memorable to legendary with this crazy-addictive popcorn flavour that's small-batch made in Calgary. There's nothing such as mindless eating with this stuff.
6. Chili Coconut Margarita from Anejo ($9.25 to $53)
This is the taste of summer and we can't get enough of it! Blanco, Triple Sec, coconut syrup, habanero and lime come together for a drink that's familiar yet slightly edgy. Just like you! Get a half pitcher ($53) and watch things really start to heat up.
2116 4 St. SW, anejo.ca
7. Alpine Gin by Park Distillery ($22 for 200 ml)
We can think of any number of gin-based summer cocktails — Gimlet, Tom Collins, Singapore Sling — and they all would be made better with Alpine Gin by Banff-based Park Distillery. It's distilled with fresh glacial water and Canadian Spruce tips, both sourced in Banff.
8. Korean Bubble Waffles from the Elbow Casino
We have it on high authority that these waffles are "the bomb." Isn't that reason enough to head down to the Elbow River Casino for a nosh? You won't have to risk a thing with this sure bet.
218 18 Ave. SE, elbowrivercasino.com
9. Hemingway Daiquiri from Ricardo's Hideaway ($10)
When summer is at its zenith and things are getting pretty hot, sometimes the only thing that will quench your thirst is a good daiquiri, and Ricardo's Hideaway has a twist on the classic worth trying, and then trying again, and again. The Hemingway Daiquiri is made with white rum, grapefruit juice, lime and garnished with a maraschino cherry.
1530 5 St. SW, ricardoshideaway.ca
10. Giant Xiao Long Bao (Soup Dumpling) from Dumpling Lab ($5.50)
We basically endorse any summer food that can be consumed with a straw, and this soup gets us every time. It's big and comforting and just about perfect.
303 Centre St. S, dumplinglab.com
11. Coconut Cake from Ten Foot Henry ($7)

When our sweet tooth gets the best of us this summer, we're highlining over to Ten Foot Henry for a slice of the wicked coconut cake. It looks old-timey, and it tastes like it was made with love. Pure, sugary, unabashed, delicious love. Bonus: Little Henry, the restaurant's cafe sidekick, serves the cake, too, so you can grab and go.
1209 1 St. SW, tenfoothenry.com
12. Kale Caesar Salad from Una ($16)

With boiled egg, toasted panko, crisp prosciutto, pecorino romano and the addition of an amazing dressing, this salad is the perfect combo of fresh and savoury. If we could eat this to-die-for salad every day we would. On second thought, what's really stopping us?
618 17 Ave. SW, unapizzeria.com
13. Garlic Fingers at Blowers and Grafton ($13)
This is the real reason Nova Scotians go home for the holidays! Blowers and Grafton's version stays true to the classic with homemade pizza dough is topped with house-made garlic butter and lots of mozza cheese. If that's not enough, it's served with donair sauce for dipping.
709 Edmonton Trail NE, blowersgrafton.com
14. Judy from Juice Because ($8)
This juice contains activated coconut charcoal, raw honey (sourced locally from Drizzle Raw Honey), lavender and lemon — a potent combination that is sure to be your hangover buddy. It also helps reduce bloating because, after the night you had, you probably need that, too.
15. Waffle Bowls from Buttermilk Fine Waffles

Totally, enjoy all the "healthy" acai bowls you want, but we'll be at Buttermilk devouring their divine waffle bowls. The ABC bowl is filled with almonds, banana, coconut, whipped cream and sticky toffee. Take that, Gwyneth.
330 17 Ave. SW, buttermilkfinewaffles.com
16. Spicy Cold Seafood Ramen at Goro + Gun ($15)
This brothless ramen is the ultimate summer cool down. Cold ramen noodles, wild sockeye salmon and albacore tuna sashimi, fresh greens, steamed prawns, seaweed, cucumbers, gochujang sauce come together for the ultimate mouthful and is perfect for a quick lunch or a refreshing dinner on those hot summer nights.
Scotia Centre, goroandgun.ca
17. Porchetta Sandwich from Meat & Bread ($9.50)
It's not even open yet, but we just know we'll be heading to Meat & Bread all the time for a taste of their wicked sandwiches. There's always a daily special and a killer grilled cheese on the menu, but it's their classic porchetta we'll devour first.
821 1 St. SW, meatandbread.ca
18. Kona Poke Bowl at Kona Poke ($10.50 to $13.50)
Poké is all the rage right now, and this customizable bowl is one of our faves in town. You start with a base of rice, tortilla chips or greens and then layer it up from there.
+15, 520 5 Ave. SW, konapoke.com
19. Pan Con Tomate at Ox Bar De Tapas (Starting at $5)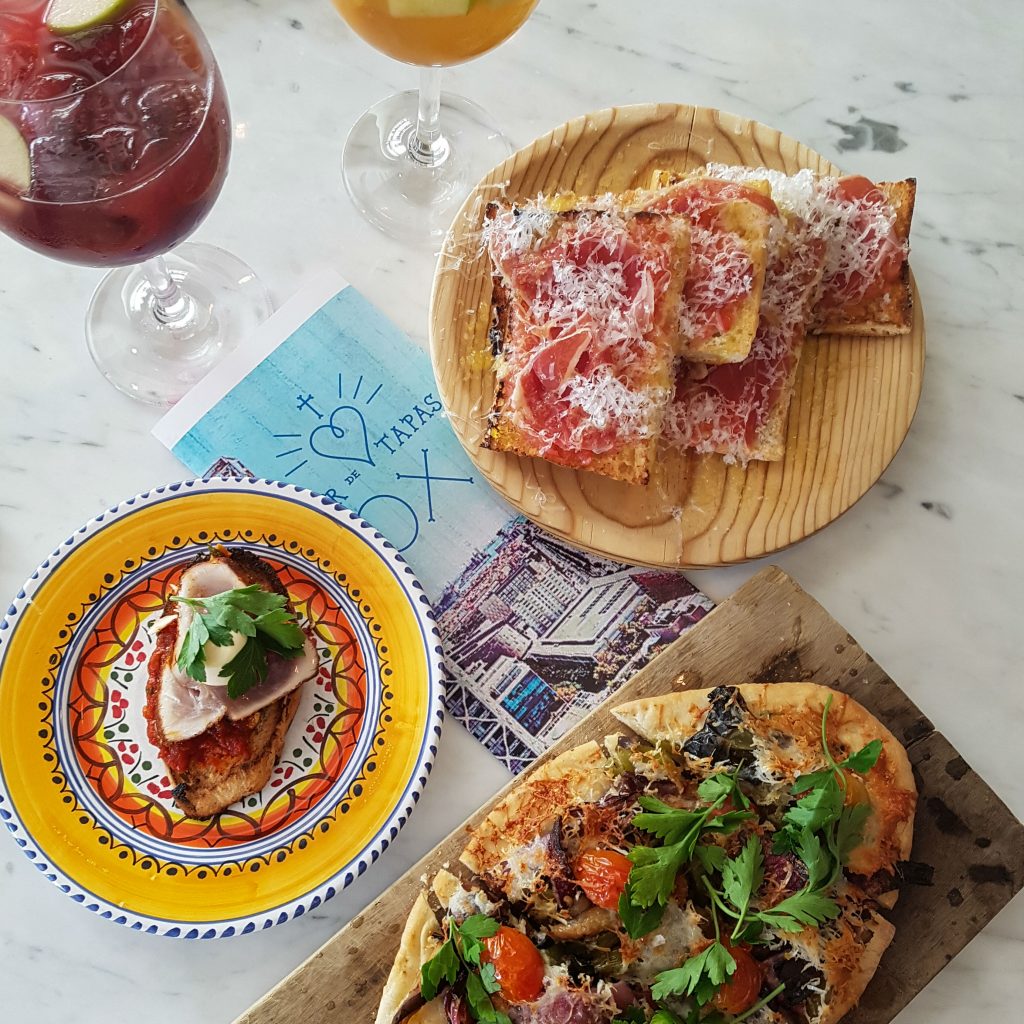 It doesn't get more classically Spanish than this. Basic bread, tomato and olive oil come together with ultra-fresh ingredients to create magic in your mouth. Choose from a few options that go from basic to creative.
528 17 Ave. SW, oxtapas.com
20. Polpo at Mercato ($23)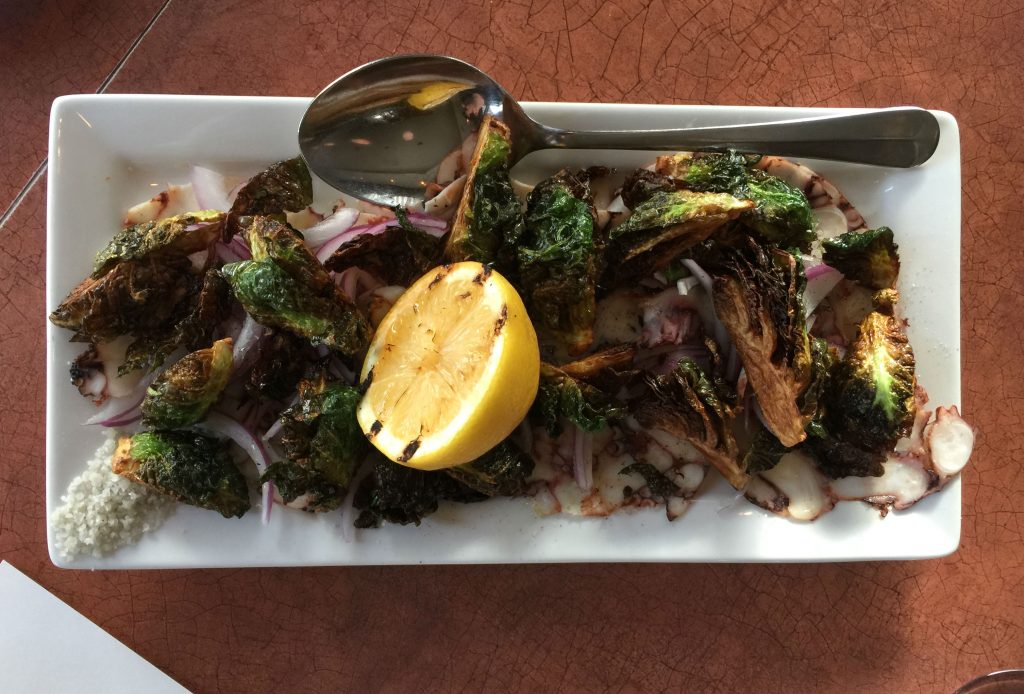 Start your meal with this super-fresh creation and you might just want to keep ordering it until you're full. Charbroiled octopus tagliate with deep fried brussel sprouts, lemon and cipolla rossa are layered to perfection, creating a memorable summer bite.
2224 4 St SW, mercatogourmet.com
21. Almond Raspberry Calgary-O from Sweet Relief ($2.25)
Sweet Relief is just a hop-skip-and-a-jump from our office, so we pop down ALL THE TIME to buy these amazing cookies. But don't let distance deter you; these are worth crossing town for.
120 13 Ave SW, sweetreliefpastries.com
22. The Godfather from Made by Marcus

There's a reason this one's the boss in town. Listen to this ingredient list: Pistachio soft serve with an amarena cherry centre, topped with chocolate dip, crushed pistachios and a ricotta and lemon filled cannoli. Wha???
1013 17 Ave SW, madebymarcus.ca
23. Screamers at Stampede
The ultimate cheap eat at the Stampede can be found at the Mac's in Weadickville. So you take your slurpee and you take your soft-serve ice cream and you layer them in the biggest container available and you got yourself a Screamer. And it's divine.
24. Tempura Haricot Vert at Divino Wine & Cheese Bistro ($8)

Would it be weird if we just ordered a few of these classic nibbles as our entire meal at Divino? Not to knock anything on the amazing menu, but this is what dreams are made of — tempura-battered green beans fried to perfection and paired with a honey hot mustard dipping sauce. Grab a seat at the Stephen Avenue-facing patio and make 'em jealous.
113 8 Ave. SW, divinobistro.com
25. Spring Salmon Crudo from Bridgette Bar ($14)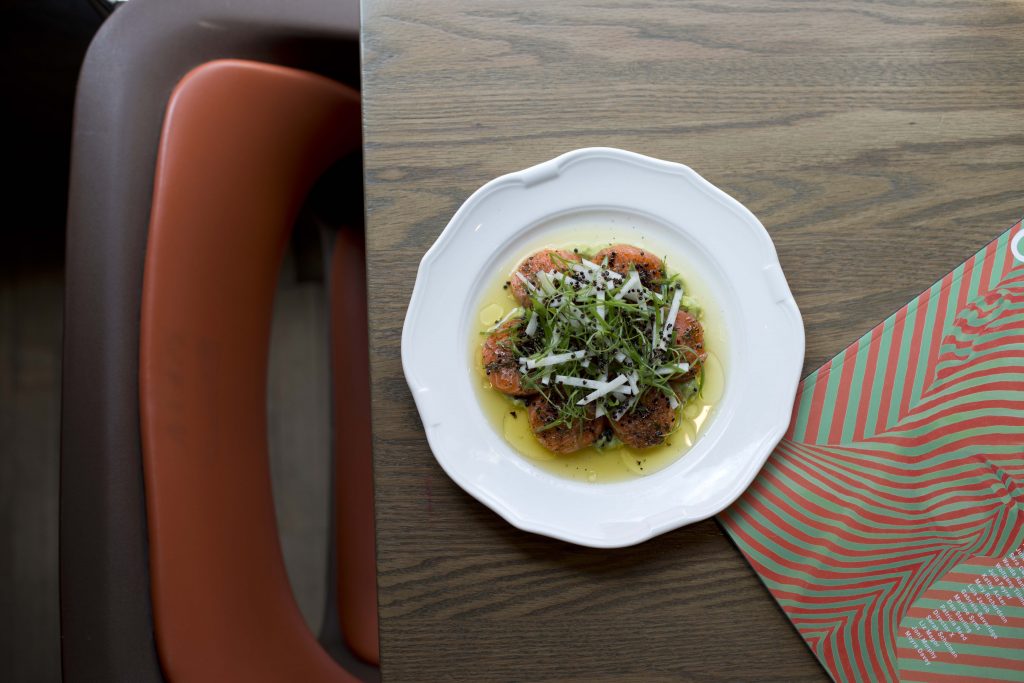 Simmer down a bit with this cold dish laced with spring salmon, puffed quinoa, avocado and drenched in a jalapeno vinaigrette. Pair this with a wood-fired pizza and an ice-cold cocktail and this, my friend, is what summer is all about.
739 10 Ave SW, bridgettebar.com
26. Honey Butter Potato Chips at Foreign Concept ($6)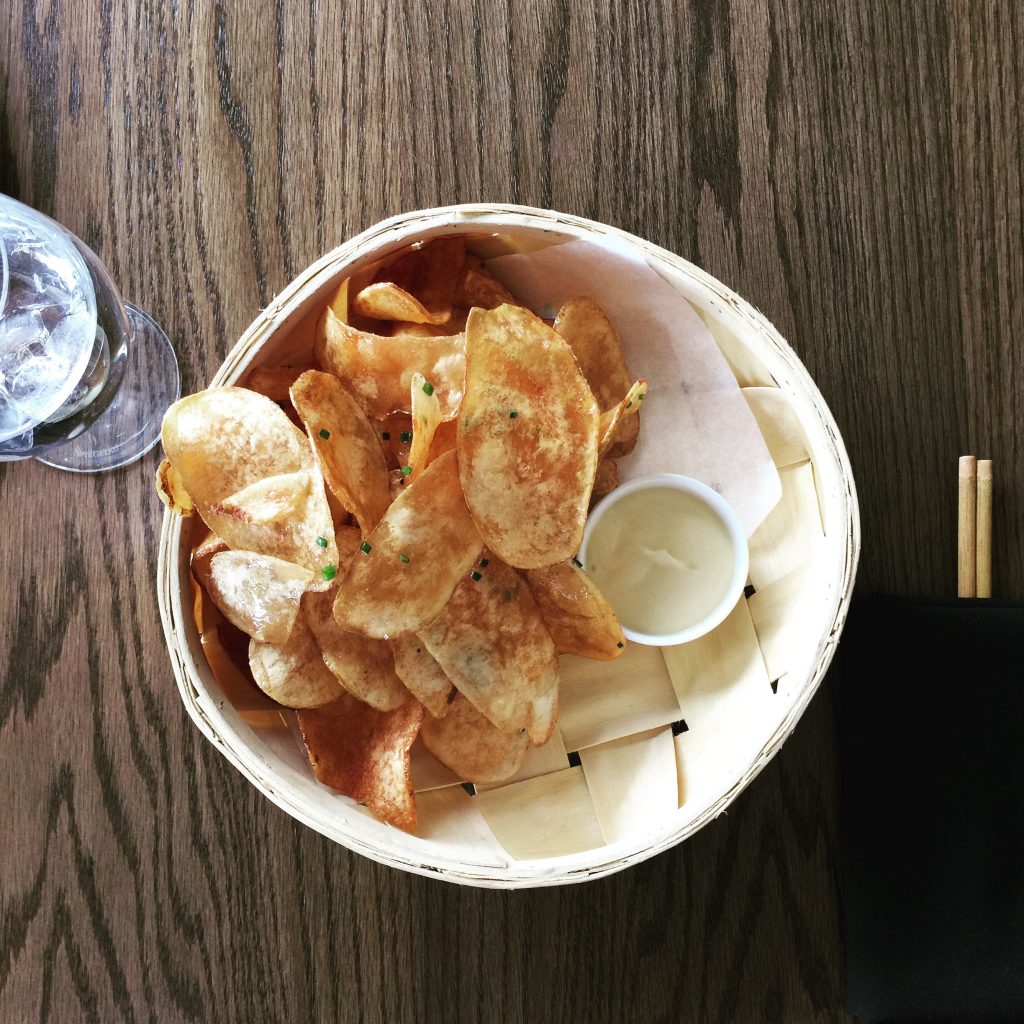 This appy is only served at lunchtime, so book that business lunch now and dive into this salty-sweet snack that will capture your heart and taste buds. For a double helping, several lunch items can be paired with these chips on the side.
1011 1 St. SW, foreignconcept.ca