Mountains are spectacular, but so are hoodoos, forests, prairies and wetlands — all those bits of Alberta that aren't in the Rockies. So when everyone else zooms off to the Rockies this summer to fight the crowds up Sulphur Mountain, try exploring a totally different direction. Skip the summits and try these 5 non-mountain hikes.
Glenbow Ranch Provincial Park
Cochrane: Head north on the Highway 1A (aka, the Bow Valley Trail) for about half an hour and turn left on Glenbow Rd. Drive about 3 km down the gravel road and you'll find the parking lot.
From the Visitor Centre, choose from some 25 km of trails split into smaller sections with entertaining names like Badger Bowl and Yodel Loop. Whichever route you choose, you'll climb up to viewpoints and explore the bottoms of coulees, stroll beside streams and through expanses of wildflowers and fescue. Sometimes the view is pure rugged west and sometimes it looks like English countryside — keep your eyes open for the old Post Office and General Store, which once served the bustling town of Glenbow.
Take: A big water bottle and a hat — there's not a lot of shelter on this prairie landscape and summer is hot.
Brown Lowery Provincial Park
ti
MD of Foothills: Head west on the Highway 22X and turn south on the Highway 22 (like you're going to Turner Valley). Watch for Plummers Road (242 Ave. W) on the right. Follow this scenic, twisty road about 11 km until you spot the small, unassuming Brown-Lowery Provincial Park parking lot on the left side of the road.
This tiny provincial park was once Home Oil land. Now it's a hiking spot so secluded you can hear the branches of towering conifers squeak together in the breeze. Take the 4.5-km outer loop, which crosses wooden bridges through a forest of interesting mushrooms, birdsong and deer-chewed trees. There's only one significant climb, which delivers you to an impossibly picturesque aspen grove opening to a sweeping view of the mountains. Turn around, and you can see downtown Calgary.
Caution: Plummers Road is a popular route for road cyclists (because it's beautiful), so drive like a responsible citizen of the world.
Cottonwood Flats Trail
Dinosaur Provincial Park: Go east on Highway 1 toward Brooks. Head north on Highway 873 and then east on Highway 544. Follow the big blue Dinosaur Provincial Park signs. You'll find the trailhead on the public loop road by the Red Deer River.
A flat, 1.4-km walk with interpretive signs and benches, this is a friendly hike for little kids and people with high heels or spiffy new brogues. You start in Badlands terrain, but before you know it you're under a canopy of cottonwood trees — tress that are home to dozens of bird species. The loop takes you past the Red Deer River and back through the cottonwoods.
Want more? If 1.4 km isn't enough, add on a nearby Dinosaur Provincial Park trail. There's the Badlands Trail (1.3 km), Coulee Viewpoint Trail (1 km) and — this one sounds like a Nic Cage movie — Trail of the Fossil Hunters (1 km).albertaparks.ca
Wyndham Carseland Provincial Park
MD of Wheatland County: Head south on Highway 2 and east on Highway 22X. Then follow Highway 24 south. You'll pass a golf course and cross the Bow River before turning right on Township Rd. 215B. 2 km and another river crossing later, you're there.
Starting at the Carseland Weir, this short 2-km trail runs parallel to the Bow River. It's quiet, shady and stuffed with Alberta wildlife like mourning doves, pelicans, beavers and mule deer (it's also a fun place to watch bird watchers). Some of the deciduous trees have little cages around them to protect them from fierce beaver fangs.
Stay: The campground here is excellent, so stick around. Fish for trout and northern pike by day and listen for owl hoots at night.albertaparks.ca
River Flats Trail (AKA Lowlands Trail)
Big Knife Provincial Park: Follow Highway 2 north to Red Deer and go east on Highway 11 (which becomes Highway 12 just before you get to Stettler). At Halkirk, go north on Highway 855, and you'll be at the park in about 25 km.
Getting here takes a while, but this small provincial park (it's 244 hectares, which is pretty dainty when you realize Nose Hill covers about 1,100 hectares) in central Alberta is about as un-mountain as it gets. Follow the gentle, 4.5-km River Flats Trail from the parking lot. You'll see views of the Battle River and Big Knife hoodoos, as well as odd little cacti, wooden bridges, birds, deer (maybe) and even a wooden gazebo.
History: Long ago, a fellow called One-eye Nelson lived in this area and ran a moonshine operation. If that isn't Wild West, we don't know what is.
By Julia Williams. Featured photo is of the Glenbow Ranch Provincial Park.
Summary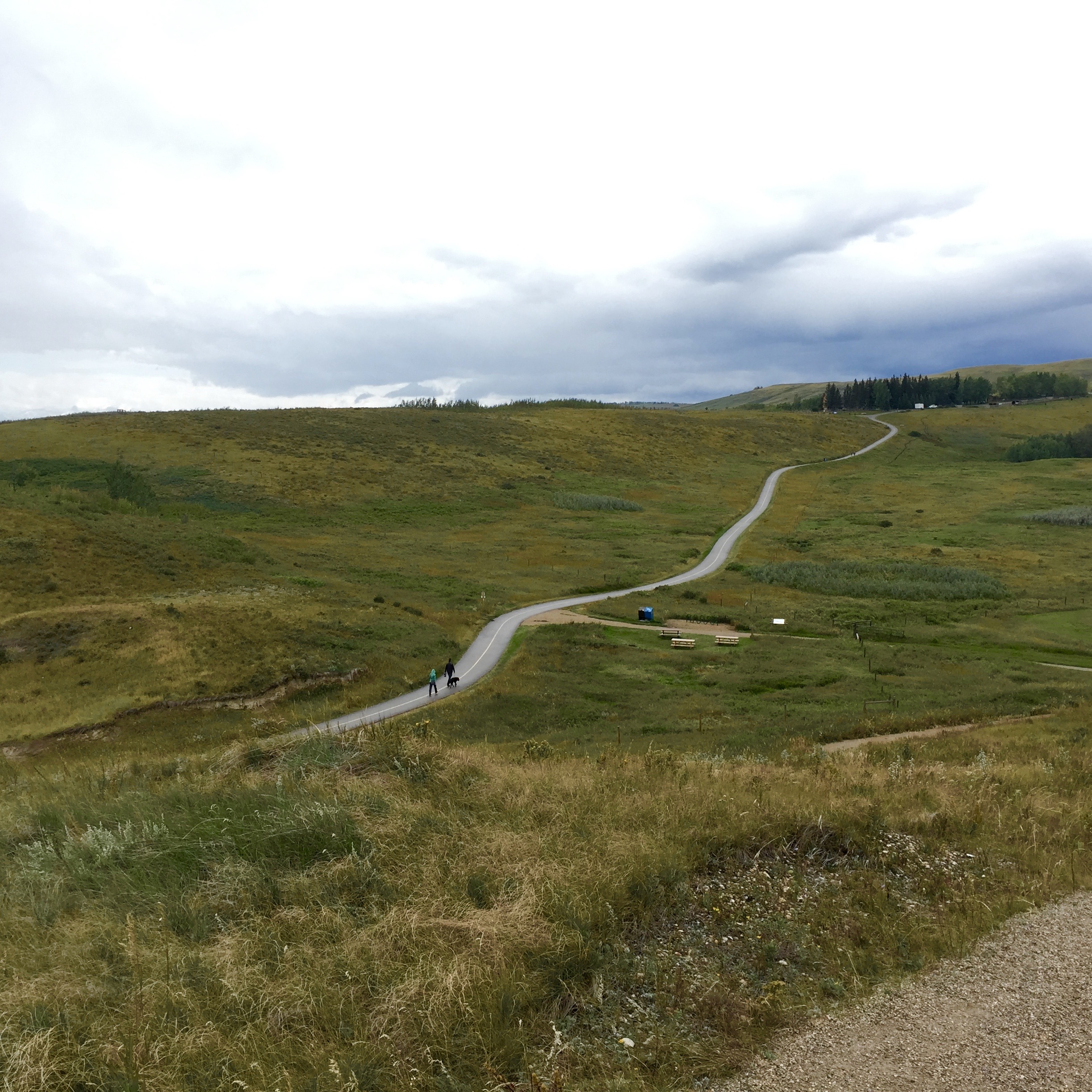 Article Name
5 Hikes Near Calgary That Aren't in the Rockies
Description
Mountains are spectacular, but so are hoodoos, forests, prairies and wetlands — all those bits of Alberta that aren't in the Rockies.
Author
Publisher Name
Publisher Logo