In our second installment of Sebastian Buzzalino's photography series of balcony gardens in Calgary, we tour Allina Rosalie's vintage-inspired outdoor space, where she grows refrigerator potatoes and "too many pansies."
Tell us a bit about yourself.
I was born in Calgary and grew up in the almost Northeast part of Beddington Heights, giving me full advantage of taking the number 3 bus south to the super-cool downtown hangouts of Central Memorial Park and Eau Claire Mall/IMAX theatre. Once I aged into an adult version of myself, I realized the suburb fences were too divisive and isolating for me. After I moved to the Beltline, I began to experience the communal "backyard" of our city's downtown area. I work for Calgary Urban Project Society (CUPS) as a child development facilitator, and I have a 6.75-year-old son named Everett, who somehow defied his non-jock genetics to become an athletic young man, shocking his momma by loving all the sports. Everett and I share our seventh-storey apartment with the world's loveliest calico cat, Junipurr JoeyJam Winks.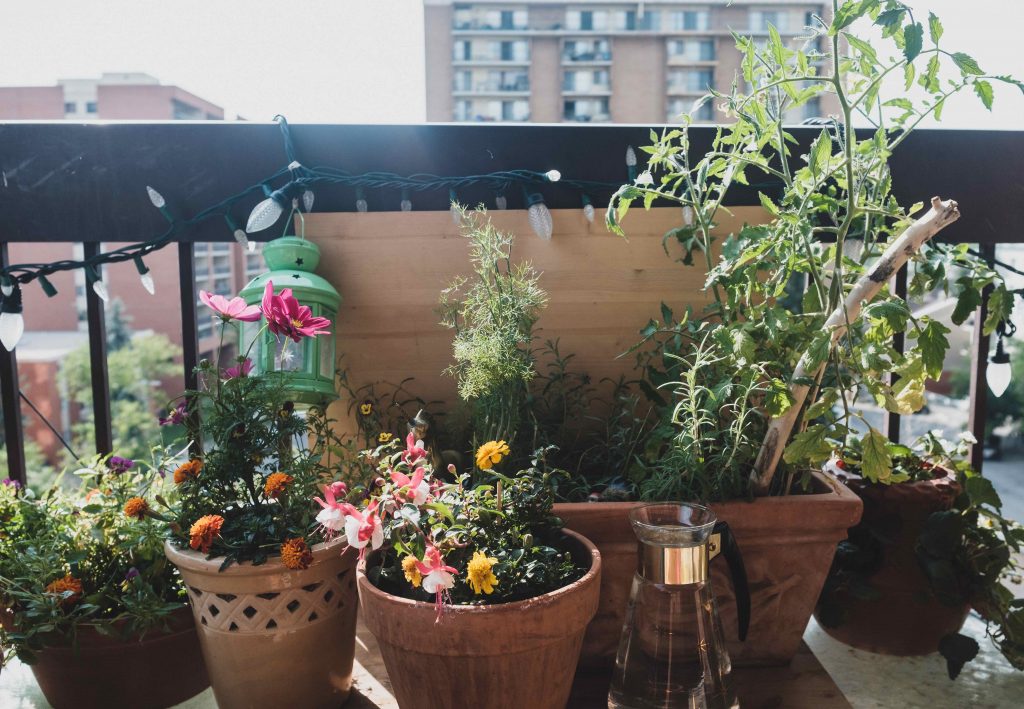 Why did you decide to spruce up your balcony with a garden?
I like things that are alive. I like to sit outside in the cold air. I also quite like science, so I enjoy trying to figure out the rebellious nature of plant life: what will grow in the cold Calgary weather, what can stand up against the blustery 7th storey winds, how much water I should give, how many days each plant can go without being rained on by my tin watering can… what can I grow on my tiny balcony, what works, what doesn't.
Can you describe your garden? What's the vibe?
Cozy flea-market garden party? Squeeze as many people, tiny lights, blankets, charcuterie boards, beverages, plants and furniture as I can in the smallest possible space (add music and garnish with board games — boom!).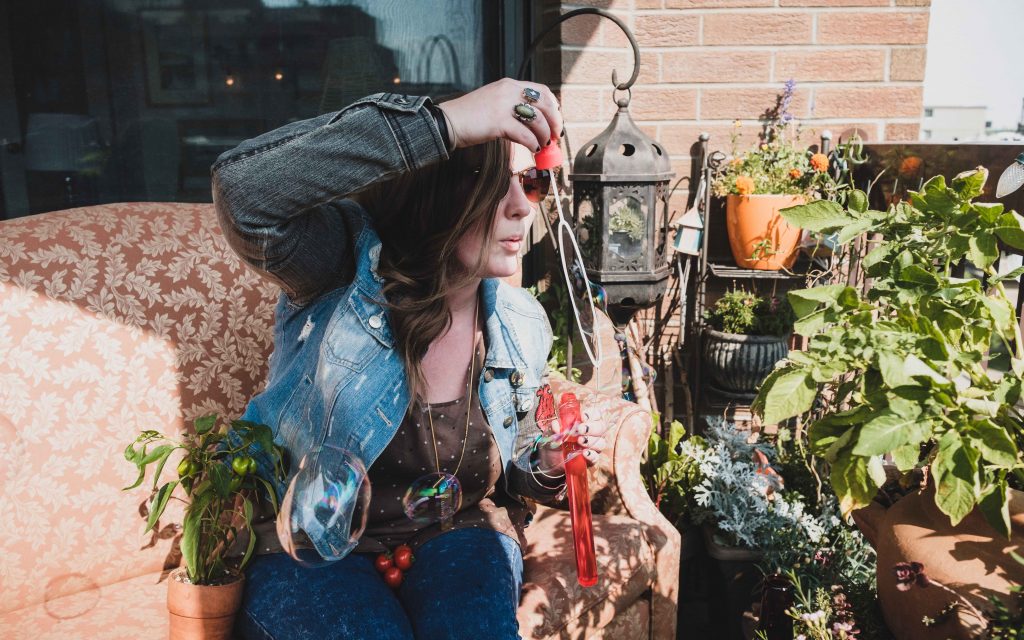 What kinds of plants do you grow?
I grow a mixture of flowers, vegetables, and herbs. I've had a peony plant. It died (rest in peace, tiny petals). Currently, marigolds and too many pansies. Tomatoes and potatoes. Potatoes and tomatoes. Anything and everything.
Where do you shop for your plants?
Anywhere really: garden stores, home depot, mystery seed packets I've found lying around. Everett brought me home the cutest little marigold plant for mother's day that he grew from a seed (heart explode). Also, sometimes my refrigerator. Case in point: several baby potatoes left sitting too long are now sprouting in a pot.
Where did you get the pots and decor?
Beg, steal, and borrow? Some were left here by the last tenants. Some I picked up at the big-box guys. Some I just found in the back alley. Same with the decor. Except for the fairies. They just showed up one day.
Is there anything special people should consider if they want to have an upholstered chair on their balcony?
Constant vigilance. Watch for the unpredictable changes in Calgary's weather. Bring the cushions inside during heavy rain or snowy seasons. Otherwise, you may have to drain/dry them in your bathtub. If you have the option though, perhaps you should opt for an "outdoor" fabric.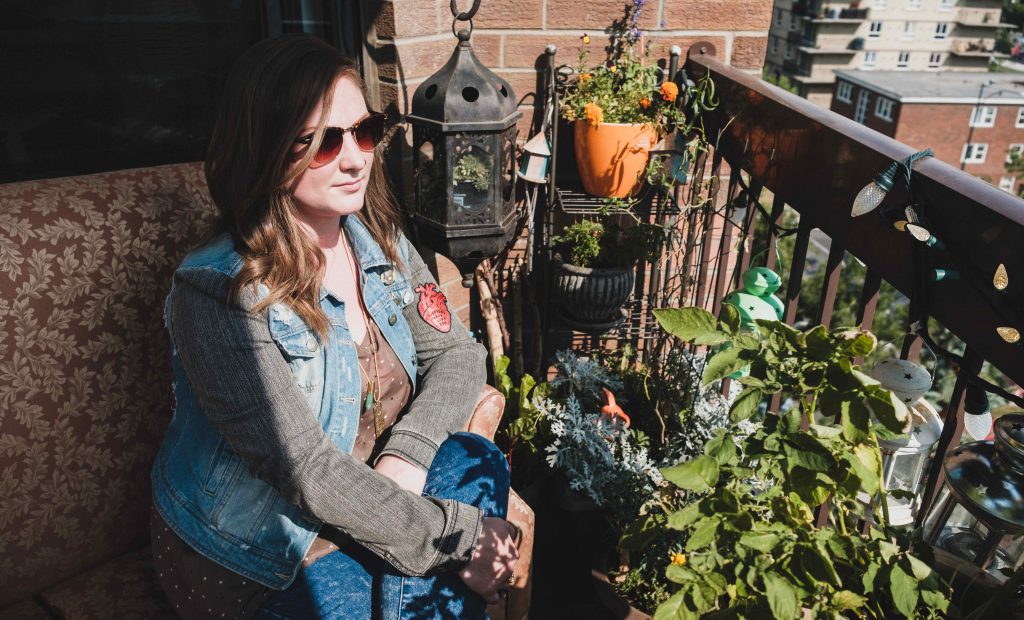 What's the easiest plant to keep alive?
The accidental refrigerator potatoes! They popped out of the soil the day after I poured dirt over them.
What's the hardest to keep alive?
I go away often and so have to rely on my pals,who don't know the trickster ways of my plants, to water and deadhead flowers. They're all hard to keep alive when I'm not there — temperamental little green things!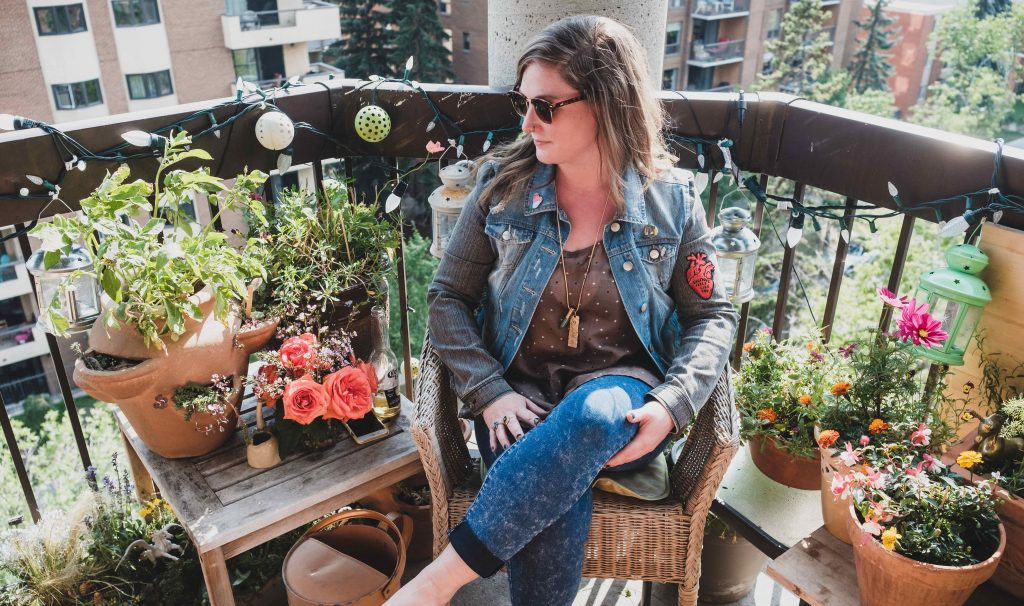 Anything else you'd like to share about your garden?
My son Everett used to eat anything that I told him grew in the garden, so to get him to try foods he wouldn't normally want to, I would just tell him we grew it. Pineapple? Yeah, I grew that on the balcony.
Photography by Sebastian Buzzalino