If you have yet to stock up on your western wear for Stampede, you should make your way to Inglewood, YYC's southeast hub, and check out the brand new shop that's taken up residence in the heart of Inglewood. Cody & Sioux opened their doors last year and have already taken the local western lifestyle market by the horns.
At the helm of Cody & Sioux is Ingrid Schulz and her daughter Alex. With 20 years of experience building and managing Western Horse Review, a Western riding magazine, from the ground up to a national publication with over 50,000 readers, Ingrid was up for the challenge of bringing the true West home to Alberta.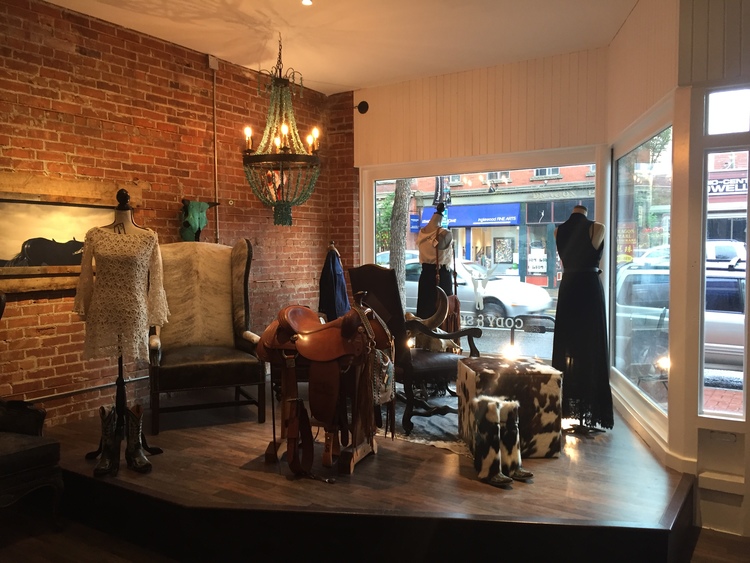 "I felt like when I came to the city, nobody was connected to the West, or at least the West I know and love," says Ingrid. "All you saw were people in bad checkered shirts and bad hats, so we wanted to help change the perception of what West really means. It's more than clothing, but that's the conduit we've chosen to invite people to embrace their own style of West. Beneath the surface, West is really about individuality, a life outdoors, an appreciation for wide open spaces, and of course, character and grit."
With this belief at the core of their brand, the Cody & Sioux team set off to find the best clothing and artisan work which all incorporate elements of western design, most specifically: silver, leather and turquoise.  They shine a spotlight on amazing artists from all over North America, including Scott Hardy, a local metalsmith who lives just outside our very own city. In addition to clothing and a wide variety of accessories from jewelry, handbags and cowboy boots, they also carry unique furniture pieces with a western flair, rounding out their offering, which they've dubbed "The Modern West."
With two generations working closely together, the gals at Cody & Sioux have their fingers on the pulse. As a result, you'll see everything from Californian Boho-inspired dresses, to traditional Texan design and a variety of cheeky tagline tees. As true champions of a western way of life and in effort to appeal to all Calgarians, you can find incredibly unique pieces at varying price points.
"We like to think there's a little West in everyone," says Ingrid. "Whether it's a cow hide rug or turquoise stone, you'd be surprised at how often we see little bits of the West inherently present in people's lives."
If you're gearing up for Stampede, or simply in the market to browse, Cody & Sioux offers lifestyle pieces that you can wear year long, even after the very last call for Stampede shenanigans and we promise, it's worth the trip.
1226 9 Ave. SE, codyandsioux.com
By Caitie Lawrence