Hi! My name's Michelle, but you can call me The Intern. In less than a month, I'll be setting out to travel from coast to coast by train.
I've always been big into travel, but in Canada I had mostly only seen British Columbia and Alberta. As luck would have it, I was one of the few people that got their hands on the Via Rail Canada 150 Youth Passes that came out a few months ago.
When I was researching where I was gonna go with this pass, I spent a lot of time looking at different places on Google. That was when it occurred to me that I had hardly seen my home country. I'd been to Europe seven or eight times, but hadn't even seen Saskatchewan (I'm from Calgary, so that's my neighbour) with my own eyes. I realized that I can't be the only one that hasn't seen this amazing country we get to call home so, I decided to document my journey. If you're like me, I want to give you a chance to see what Canada's all about and better yet, I hope I can get you excited enough to check it out yourself.
This is where I'll be stopping:
Halifax, Nova Scotia
Moncton, New Brunswick
Charlottetown, PEI
Quebec City, Quebec
Montreal, Quebec
Ottawa, Ontario
Toronto, Ontario
Niagara, Ontario
Winnipeg, Manitoba
Jasper, Alberta
Vancouver, British Columbia
Victoria, British Columbia
Here's where you come in: since I haven't seen a lot of the country, I need some serious help figuring out what to visit! So, start thinking about your favourite (actually cool) attractions, the tastiest places to eat, hidden gems, whatever you think I should check out. If you've been somewhere and loved it, I wanna know. If a friend of a friend raved about finding the best fish and chips in Canada, then tell me (seriously please if someone knows this answer, I love fish and chips). If you've just seen a cool place on IG once ever and have wanted to go, I want to go. Then, go follow me on Instagram @Intern150 to share your suggestions! Bonus: you'll also learn a bit about who I am.
Packing List
For the entire month, I will be living out of my Osprey Pack, and the packing is going to get pretty tight. This is my "12 Cities, 10 trains, one month, one backpack packing essentials list."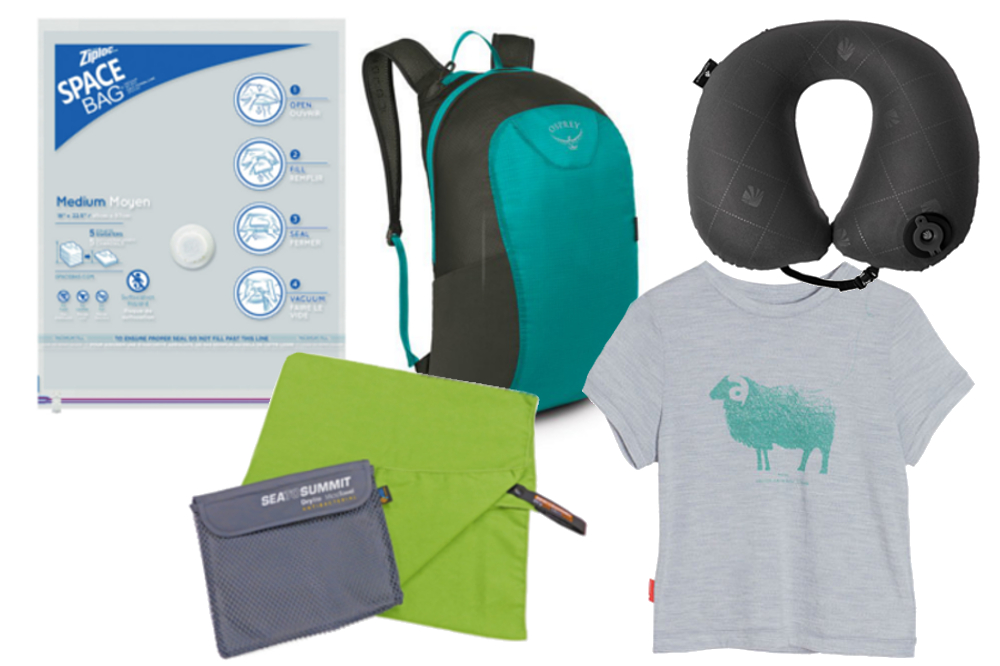 1. Compression sack. If you like traveling, especially carry-on or backpacking style, go get one of these right now. You can cut down a pile of shirts to almost half its size just by rolling the air out of its one way valves, it's a lifesaver. Another nice thing is that it keeps all your clothes together, and you can take it out of the backpack comfortably instead of trying to find a free-floating sock.
2. Travel towel. When it comes to backpacking, these are a godsend. They are light, take up almost zero space, dry fast, absorb around four times their weight, and are usually treated to be antimicrobial so they don't smell — what's not to love? Go for the smooth polyester/microfibre combo; they dry faster and won't pick up sand if you go to the beach.
3. Crushable day pack. Kind of like those reusable shopping bags that pack into themselves, but next level. These have improved a lot in the last few years. You can get padding on the straps, inner pockets, water bottle pockets, and they still pack down to the size of an Altoids tin; might not even miss your real pack. These are amazing for anytime you don't feel like carrying your 50-litre pack with you, which will be the whole time you're on the trip.
4. Merino Wool. If you don't know that I love merino wool, you don't know me at all. This is nature's gift to mankind: it keeps you cool when you're hot and warm when it's cold, it never stinks (tried-and-tested by yours truly), dries crazy fast, barely wrinkles, is a natural barrier to UV, and for you pyros reading this, it's flame resistant. Approximately 75 percent of my wardrobe will be merino, and if I'm being honest I'd probably be fine if I only took three merino shirts for the whole month.
5. Neck pillow. The lovely thing about this train pass is that I'll be sleeping in a regular seat, even during the three nights it takes to get from Toronto to Jasper. If you're embarking on a similar journey, a neck pillow will keep you sane, and they will pack into any hole that you're left with after you finish packing. Even if the look doesn't quite fit your aesthetic, your whole body will thank you.