Summer Solstice is officially here – and that means we have precisely three months of mostly amazing weather, save a few beautiful thunderstorms we'll be watching from our living room window. But when there is sunshine, you can be sure to catch us out-and-about on our bikes, getting ourselves back in the game for this summer.
Itching to get back out on the path, too? Even if you're just in it for the views, we have the perfect spots to get your butt back into gear no matter what type of cyclist you are.
The Loop-Loving Biker: Glenmore Park Loop
It doesn't matter how many hours you spent on a bike last summer, if you weren't hitting up spin classes regularly through winter, your first ride is likely to hurt. Take it easy for your first ride and give yourself a chance to ease back into it by doing the loop around Glenmore Park, where you'll get about 16 kilometres in to help you get used to that seat again. The terrain is mostly flat, but you'll get a few short, steep hills to reacquaint you of your quads. The best part? This ride averages an hour to complete.
The Full-On Mountain Biker: Paskapoo Slopes
Roots to jump, rocks to dodge, and a solid decline to keep things interesting are all part of the downhill appeal at Paskapoo. Sitting curled up on the couch with Netflix for six months doesn't do much for your technique, but Paskapoo is the perfect place to get comfortable biking in nature again. This hidden gem beside Canada Olympic Park has a healthy mix of easy-to-moderate runs, perfect to awaken the guts of steel you need for this sport.
The Not-Fully-Committed Mountain Biker: Fish Creek Provincial Park
Love getting right into the woods for a good ride, but don't have enough coordination to roll down the side of a mountain dodging trees on two wheels all day long? If this is you, check out the routes at Fish Creek Park. The whole area is beautiful and you get a rocky mountain vibe without the fear of risking your life. You'll have plenty of paths to choose from, including paved paths as well as single tracks. The network of paths can get a bit confusing if you're trying to create loops, so it never hurts to head to this spot with someone who knows it.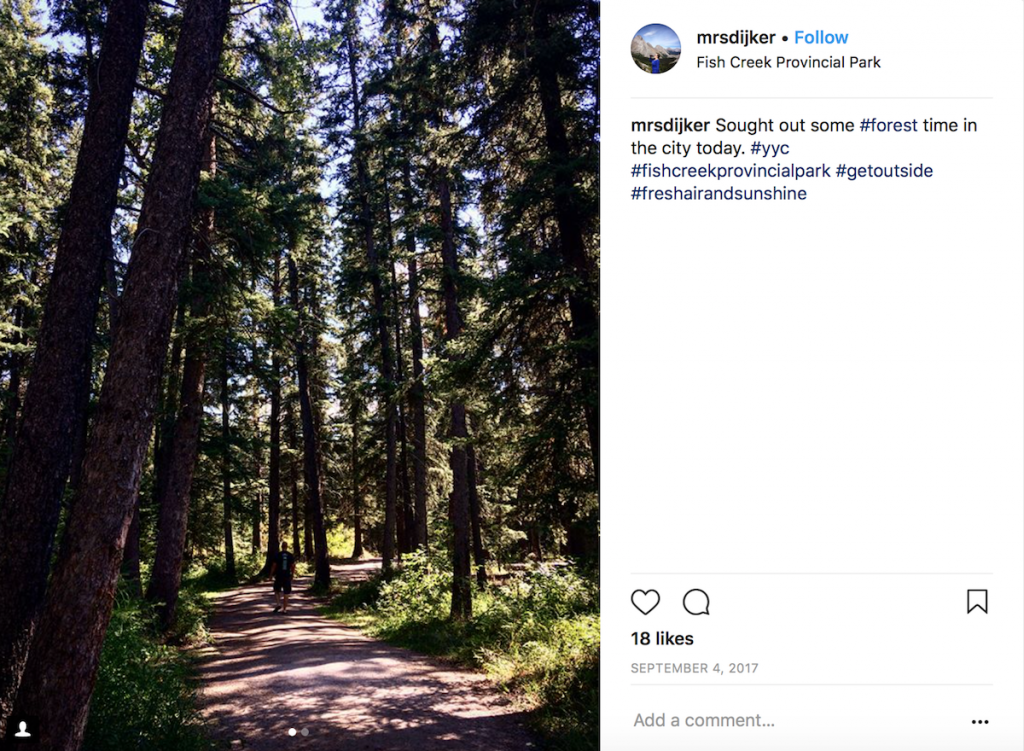 The Easy to Please Biker: The Rotary/Mattamy Greenway
If you're not sure how long you feel like biking, and you don't have to see something specific along the way, this path was made for you. The Greenway is a 138-kilometre bike path that encircles the entire city, making it relatively easy to jump on no matter where you're located. Along the way you can find points of interest like parks, wetlands, and memorials, so check out the map on their website to see if there's something you're particularly in the mood for on a given day.
https://www.instagram.com/p/BVQ1LvQjDY4/?tagged=calgarygreenway
The "I'm Just Here for the View" Biker: Prince's Island Park
Not everyone wants to be in the Tour De France or the X Games — some of us just want to go for a pretty ride in the park!  Hop over to Prince's Island Park downtown where you have about 3 kilometres to take your sweet time and enjoy the beautiful surroundings. If you feel inspired, you can always take it to the path on the Bow River. Alternatively, you can head to River Cafe or one of the bars nearby in downtown for a drink or a snack to reward yourself for all the exercise you've done!
https://www.instagram.com/p/BUx3UaOlKWQ/?tagged=princesislandpark
For more information on Calgary bike pathways, visit www.calgary.ca.
By Michelle Pijanowski
Looking to become the Calgary Stairmaster? Check out these less travelled stair workouts in the city.