Southeast Asia has replaced Europe as the trendy travel circuit for backpackers and five-star adventurers alike — and a case can be made that Bangkok is the new London. Not only is Thailand's capital inexpensive to stay, shop, eat and party, but also, the city encapsulates a fascinating culture with a rich history rooted in monarchy and Buddhism, alongside an infectious entrepreneurial spirit as the economic epicentre of a recently industrialized country.
Do the tourist thing and see the Grand Palace and Temple of the Emerald Buddha.

If one is to truly gain insight into Thailand's history and religion, it is more than worth the immense crowds and snaking lines to enter the city's crowning jewel. Built in the 1700s, the Grand Palace houses a stunning array of buildings and temples dripping in gold, studded with jewels, bedazzled with millions of tiny mirrors and surrounded by hand-painted murals. The pride-and-joy of the palace is Wat Phra Kaew, housing Thailand's prized Emerald Buddha. Which, although only 26-inches high, is intrinsically precious — not only because the statue is made out of jade — but also because of its significance to the Thai people.
Get off the beaten path at the Artist House.

After experiencing the Grand Palace, a trip down the canal to the peaceful Artist House, or Baan Silapin, will be a much-needed respite. Catch a water taxi along the Chao Phraya River, and ease into the undulating rhythm of the boat as it crosses the river and turns off into one of Bangkok's many canal systems. Enroute to the Artist House, you will drift past stilted wood and tin-roofed homes and see locals floating in small river boats towards the main city. At your final destination, admire local artwork in the 200-year-old building, check out a traditional Thai puppet show, sip on an iced latte, or perhaps get your palm read by the resident fortune teller.
Eat waterside at the Amphawa Floating Market.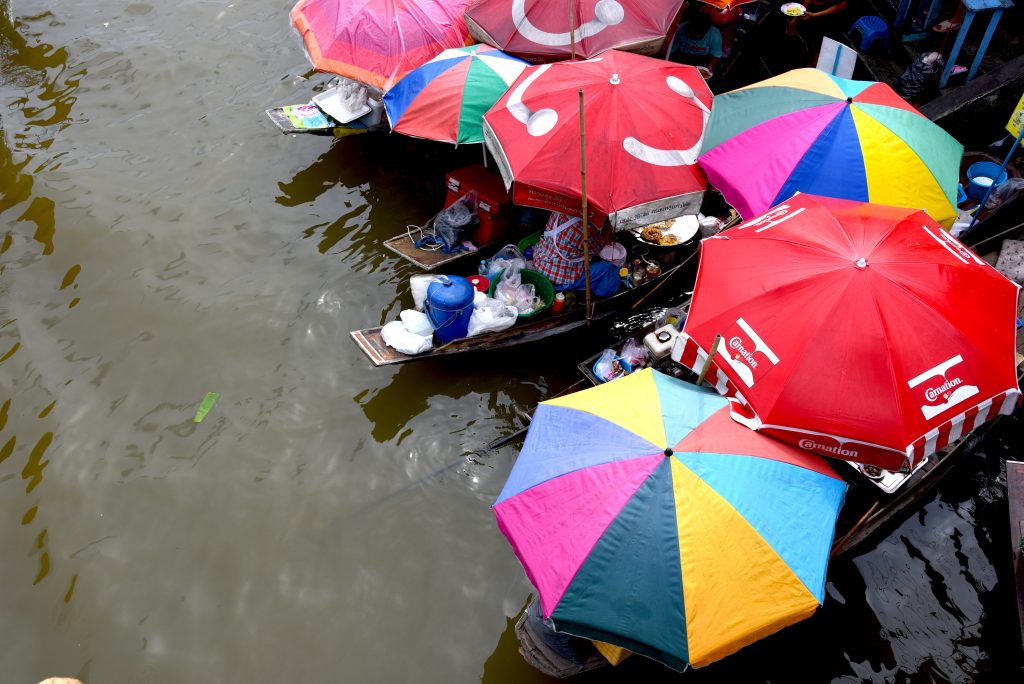 Although the Amphawa Floating Market is roughly an hour out of Bangkok, this destination is more than worth getting out of the city. Unlike many floating markets in Bangkok that have become over-popularized and tourist-centric, Amphawa is geared toward locals. Adorable shops and cafes line both sides of the canal — behind which is a land market boasting a plethora of street snacks. Certainly, the highlight of the Amphawa market is the food. Sit by the water and watch as your Pad Thai, green curry or Khao Pad is whipped up in a riverboat. Trust me, your next food truck experience will pale in comparison.
Shop your heart out at Siam Centre.
One will find many places to shop in Bangkok. However, while we fully endorse taking a moment to barter for a pair of "ele-pants" for only a few hundred Baht, for the more fashion-conscious travellers a visit to Siam Centre mall is a must. While also showcasing a variety of luxury brands, the centre focuses on providing retail space to both renowned Thai couturiers and emerging local designers — and the creativity evident is absolutely inspiring and delightfully unusual. Keep an eye out for edgy and bohemian Soda, and for Thai design institution Jaspal.
siamcenter.co.th, @siamcentre
Go to Chinatown (at night).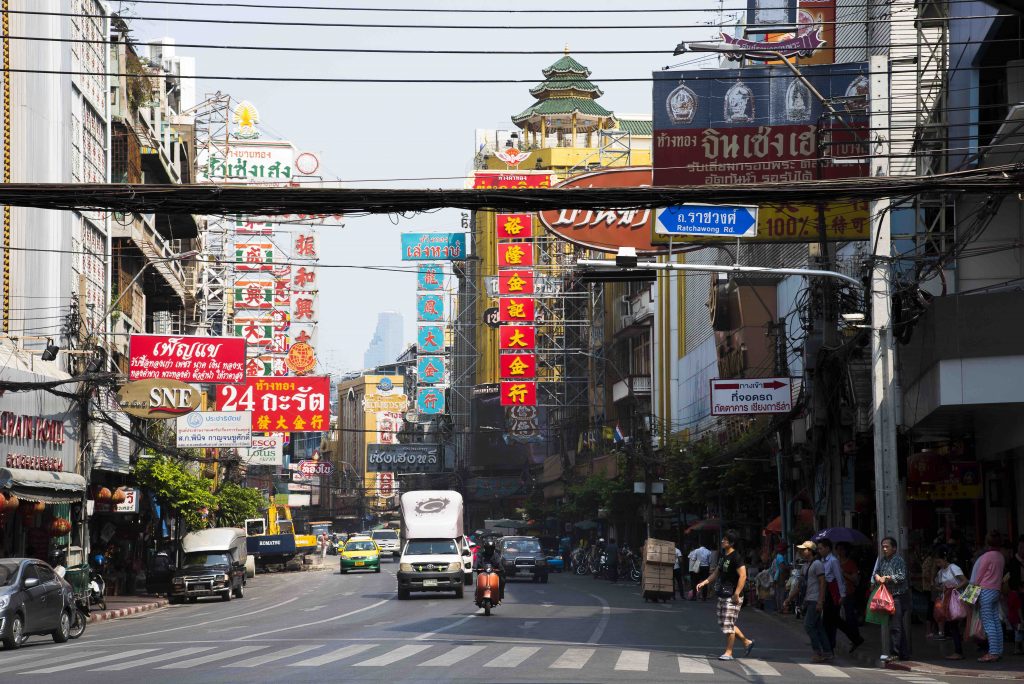 By day, Chinatown is a crowded corner of Bangkok filled shops and stalls selling quite nearly everything imaginable. By night, the quarter is stacked with delectable street food options. Among the best streetside restaurants in Chinatown is Lek & Rut Seafood. There is no real way to tell this restaurant from its neighbouring stalls on Yaowarat Road, except for the line of eager diners tailing down the street. After being crammed into a plastic table, your dining experience will include cooling down with a local Singha beer, while you munch on chili squid, shrimp with peanut sauce, or salted sea bass.
Eat scorpions on a stick and drink after midnight on Khao San Road.

When you have One Night in Bangkok, that night absolutely must be spent on Khao San Road. Notorious as being smack-dab in the middle of the backpackers' district, your evening will not be authentically Thai. But, it will be authentically wild. When the sun sets, the street becomes alive as bar-on-bar blasts a blend of beats. Your fellow tourists will spill out into the street, creating a 410-metres-long party. One of the few places where alcohol is available illegally after midnight, you will also find hawkers selling cigarettes, scorpions on a stick and all manner of trinkets squeezing their way through crowds until the relatively lawless existence that is Khao San Road crumbles to a halt in the early hours of the morning.
Words and photos by Sarah Comber