We're exploring Calgary's delicious cocktail culture, so you can sip, swallow, and savour some of the city's best beverages. This piece takes the deep-dive into the nostalgic bevvies on Bridgette Bar's menu.
First impressions are important, and nowhere is that expression more evident than at Bridgette Bar. Walking in, one is immediately struck by is the stunning mid-century modern décor. From the enormous Rob Bailey mural marking the bar's left wall to the vintage motorcycles book-ending either side of the dining room, the space inspires Instagram accounts galore.
Also subtly apparent — but arguably more conducive to the nonchalant and comfortable ambience of the restaurant — is the synergy between the staff. It's one which bartender Stephan Kuehne suits seamlessly. Hired at Bridgette in June, the 26-year-old has worked in the industry for roughly five years. However, his early years were spent in the kitchen — switching to bartending two years ago.
"Working as a cook gave me a really good basis for working with flavour," Kuehne says. "A lot of bartenders start in the kitchen and move because they love working with flavour, and I am a part of that."
While experimenting with flavour is one of the reasons Kuehne switched to the front-of-house, his other motive was informed by his natural aptitude for performance.
"I am one for showmanship given that I have been playing music for 20 years now," Kuehne says. "The aspect of performance is important to me because bartending is a show — that is the great human aspect that drew me to bartending."
That human aspect is apparent as Kuehne and I chat over vintage-influenced cocktails — while his co-workers stop to introduce themselves, add their own insight to the interview or crack jokes behind the bar.
Indeed, the approachability of Bridgette Bar's staff is echoed in its cocktail menu.
"When we develop the cocktails, we are first and foremost worrying about approachability," Kuehne says. "We're not designing cocktails for other bartenders to drink. They are for everyone."
Sample the synergy and sip on one of Bridgette Bar's divine creations.
The Knight We Met, $13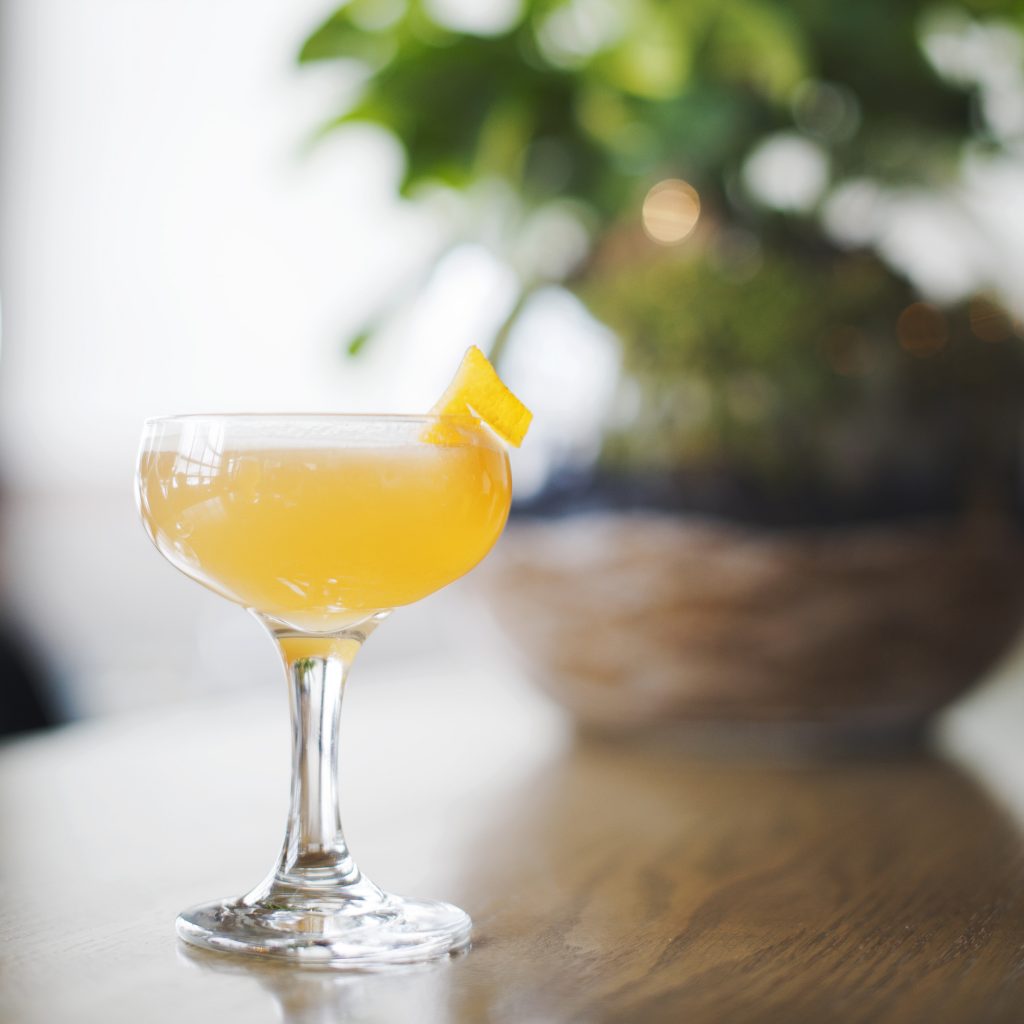 Once actually served to a Bridgette Bar patron knighted by the Queen, this regal beverage was created by David Bain. Havana Club Anejo Reserva mixed with Bulleit Bourbon combined with grapefruit and lemon juice and adds a dash of sweetness with blueberry rooibos and hop syrup. "The dark rum plays really well with the citrus we put into this drink because of the caramel in the rum," Kuehne says.
Sunfire, $14
Who doesn't want to spice up their life? (To all you '90s babies, that one was for you). This cocktail's "sun" is a blend of passion fruit puree, lemon, agave, and coconut water combined with Cazadores Reposado tequila, and the "fire" is a touch of Hellfire Bitters and a marash spice mix lining one side of the rim — consisting of pink peppercorns, togarashi and salt. "This drink is perfect for someone who wants a fresh cocktail, but doesn't want the burn," Kuehne says. "It is like the distant cousin of a margarita — but twice removed because there is no lime or Cointreau."
Awkward Moment, $14
If you're feeling fancy — or your week demands an excuse to treat yo' self — this is the drink for you. Pink, bright and effervescent, all that is missing from this dainty cocktail is a crown. A twist on a French 75, "Awkward Moment" incorporates St-Germain elderflower liqueur, Gobernador Pisco, grapefruit juice and lemon juice. And the best part? The bubbles. Topped with Wolfberger Brut and a brandy-soaked cherry, you'll feel like a Hollywood starlet, sipping in style.
Aviation, $14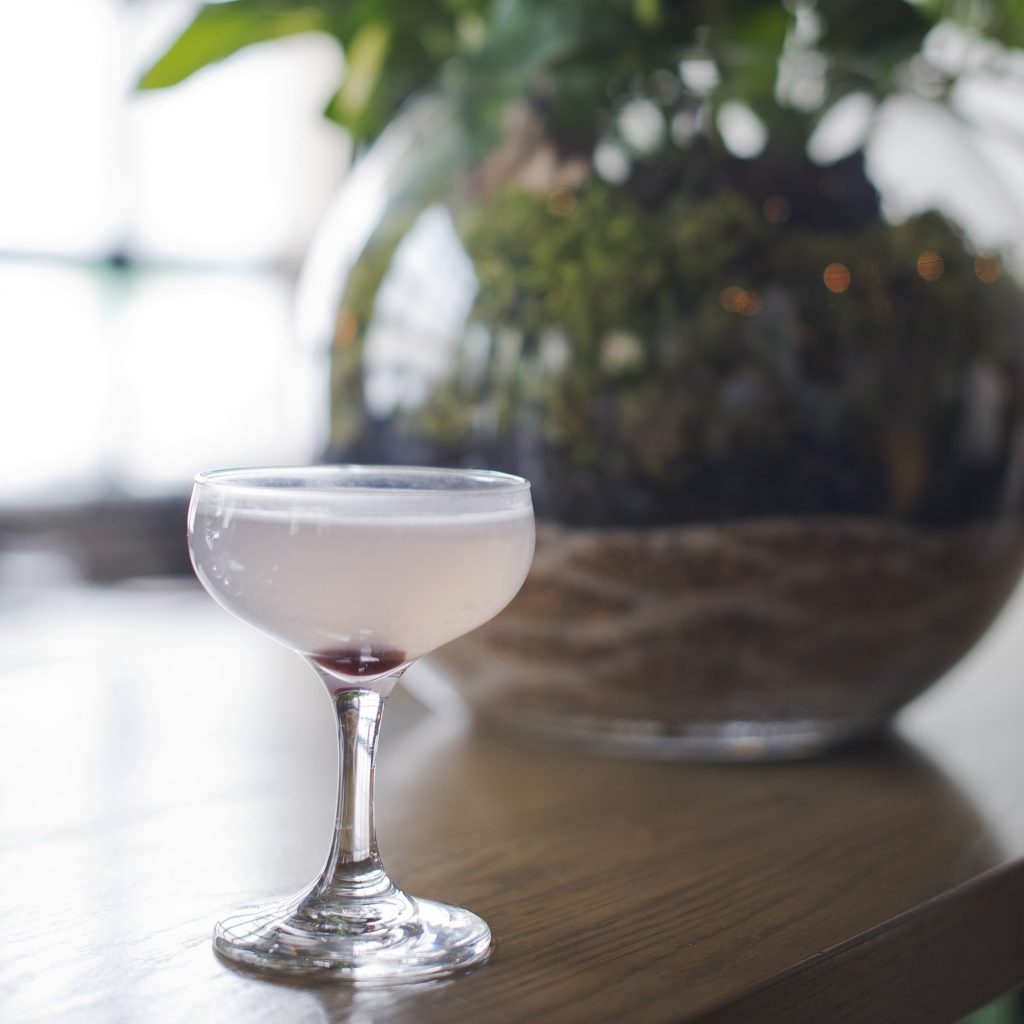 A pre-prohibition cocktail, the "Aviation" was created in 1917. "We thought it was a great cocktail to put on the menu because it is very approachable and very classic," Kuehne says. He adds that although many bartenders have variations of this drink, Bridgette Bar does its best to keep the mix as simple as possible using only four ingredients: Beefeater Gin, Luxardo Maraschino Liqueur, Giffard Crème de Violette, and lemon. "Gin fans will love this cocktail," Kuehne says.
Looking for something to eat with your Bridgette Bar cocktail? Try the chicken sausage pizza and then plan to conquer the rest of these shareable plates in the city.
By Sarah Comber