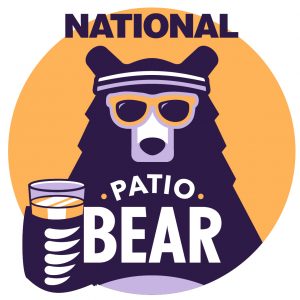 Creating a new beer from the ground up might seem like a daunting task to basically everyone. But National Beerhall and their West-Coast pals at Phillips Brewing & Malting Co. were up for the challenge.
After some great conversation and brainstorming (and more than a few pints) they came up with a brew that celebrates Albertan ingredients — and it's one that can be sipped well into the perfect summer nights Calgary is famous for.
Patio Bear Blackberry Saison is a light-bodied brew with aromas of freshly picked blackberries and fruity hops. A 4.4 percent ABV, it's made to please summer drinkers and pairs perfectly with patio weather, Ping-Pong and good times.
For those wondering what a "saison" is, Chris Joyce, the general manager at National on 17th and one of the people who dreamt up Patio Bear, describes it as "a pale that is generally around 7 percent, fruity and highly carbonated. A lot of breweries are making them with low ABV now. Patio Bear is 4.4 percent and crushable on a hot patio."
And sipping this beer all summer long could be your ticket to the West Coast. Next time you're at National Beerhall, ask for a punch card. Each time you order a pint of Patio Bear you get a punch, which becomes your entry to win a trip for two to Rifflandia Music Festival in Victoria this September, including airfare and accommodations.
And good news for Stampede revelers: Patio Bear Blackberry Saison will be on tap at Local 522 next to the Wildhorse Saloon, which means you'll be sipping something extra-delicious while you take in the festivities all night long.
ntnl.ca; follow Patio Bear on Instagram at @patiobear