The change in weather makes us want to eat every ultimate dessert in Calgary, so we thought we'd choose several to start with. Here are 25 reasons we're hitting the treadmill this fall.
1. Chocolate Cake at National Beerhalls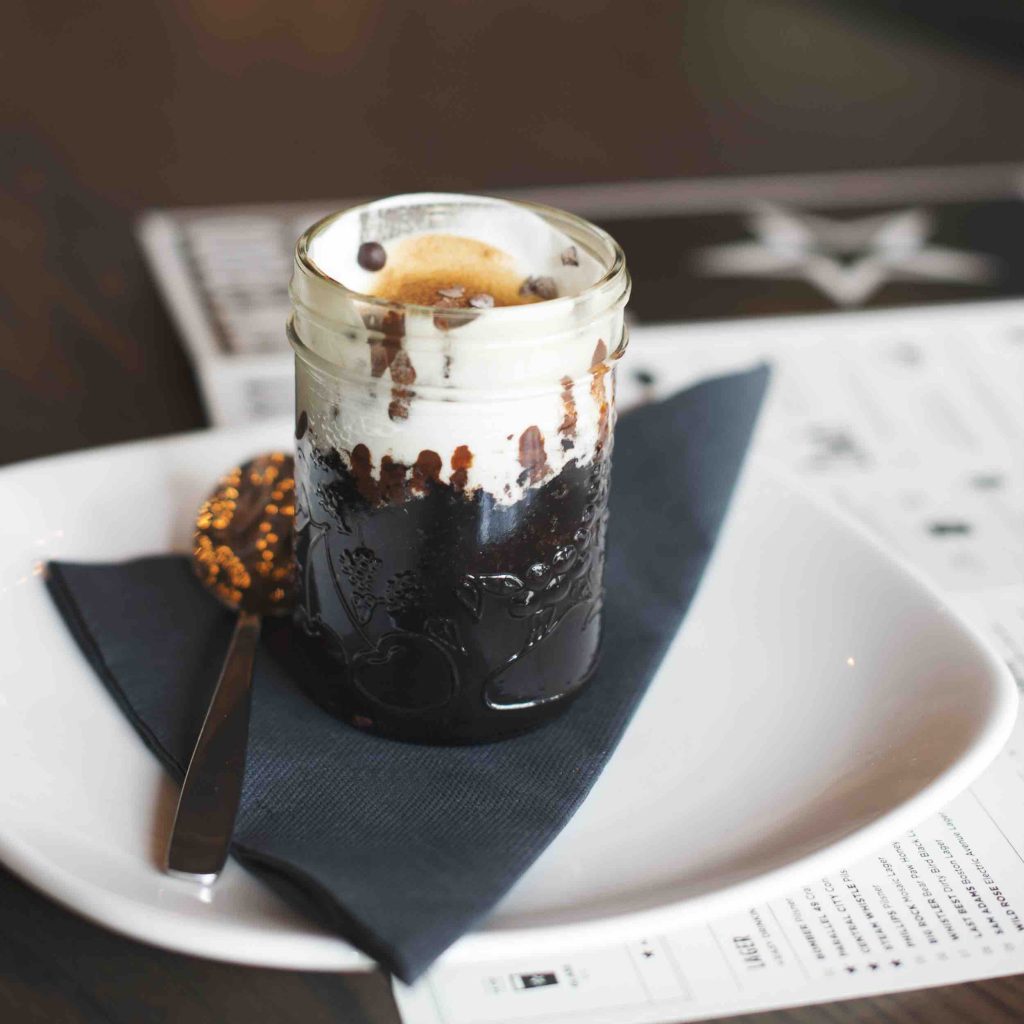 This decadent dessert is an adult take on s'mores, with Fiasco stout gelato, wheat ale meringue, and chocolate crunch. Drink it with the darkest stout on tap and curse the fact you didn't wear your elastic waist band pants.
Various locations, ntnl.ca
2. Cheesecake at Spiro's
You may be tempted to only ever settle on a baklava or kataifi whenever you head to a Greek establishment, but the cheesecake at Spiro's is something that should change your mind. It's creamy and light in texture and flavour, and indisputably served with both tradition and love.
1902 33 St SW, spirospizza.ca
3. Walnut Cheddar Stuffed Pancake at Anju

Though Anju has remarkable savoury goods available, you could do little better than to treat yourself to a mouthful of this incomparable dessert, which is made with white truffle ice cream, sweet red bean, strawberry, and made with a honey sponge. You're unlikely to find something quite so original and delicious anywhere else in town.
344 17 Ave. SW, anju.ca
4. Cinnamon Bun at Roy's Place in Claresholm (worth the drive!)
You may recognize this wonderful institution from the Food Network's You Gotta Eat Here, and even though it's located in Claresholm, the drive is more worth it for the cinnamon buns they produce. You've had the treat before, but we can guarantee, it's nothing like those at Roy's Place.
5008 1 St W in Claresholm, roysplace.ca
5. Fiasco Gelato Sandwich at Palomino
This one is like a dream come true for Canadians, adults, and those who like bananas. Maple bourbon banana pudding gelato is wedged between two dreamy sugar cookies, and drizzled with a delightful bourbon syrup. Not only is it a delightful frozen treat, but it's all encompassed with one of Calgary's biscuit-wonders, and then splashed with liquid magic.
109 7 Ave SW, thepalomino.ca
6. Chocolate Torta at Double Zero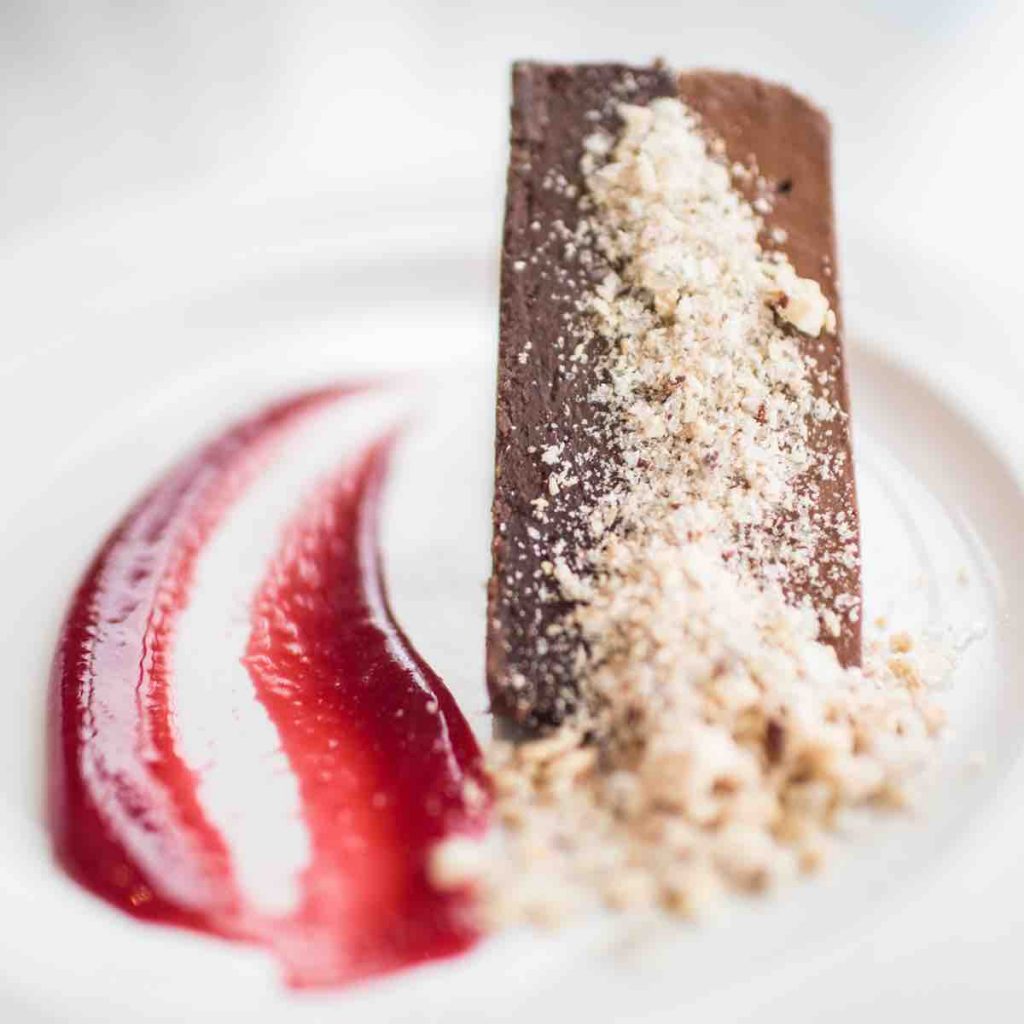 Double Zero is known for their pizzas, but holy moly, is this torta a whole other reason for their acclaim. Picture this: chocolate mousse, hazelnut praline, and a raspberry coulis – all perfectly melded together for a dessert indulgence that will astonish your taste buds.
Chinook Centre, 6455 Macleod Trail SW, doublezeropizza.ca
7. Creme Brûlée at Fleur de Sel
As one of Calgary's foremost contributors to French cuisine, you can be sure to trust the crème brûlée at Fleur de Sel. Creamy, sweet, and topped with the perfect sugary crunch, this crème brûlée is a revelation. With the brilliant addition of candied ginger, your bar for dessert in Calgary will be forever raised.
2015 4 St. SW, fleurdeselbrasserie.com
8. Banana Foster Pie at Bridgette Bar
Basically everything we live for in one bite: salty pretzel crust, fresh banana slices, banana custard, fluffy meringue topping and rum caramel drizzled on top. We'd say it's just like grandma used to make, but it's actually probably better. Sorry.
739 10 Ave. SW, bridgettebar.com
9. Butterscotch Pudding at Ten Foot Henry
A perfectly savoury and sweet medley, the butterscotch pudding at this popular locale will certainly send you for seconds. This sponge toffee and butterscotch delicacy is completed with just a pinch of salt, and is the ultimate addition to your lunch break. Or romantic dinner.
1209 1 St. SW, tenfoothenry.com
10. Date Cake at Crazyweed in Canmore
Though it may be a bit of a trek, Crazyweed has been bringing in foodies near and far for ages. Their appetizers, mains, and cocktails are renowned, but their desserts are sure to satisfy as well. For an iconic taste of Crazyweed, opt for their Swoon Worthy Warm Date Cake. Its addition of bourbon butter sauce and orange cardamom ice cream is sure to make you actually swoon.
1600 Railway Ave., Canmore, crazyweed.ca
11. Vietnamese Coffee at Pho Dau Bo
Okay, so this entry doesn't quite count as a dessert, but it's still important to note. Think of a super-slow strong-brewed coffee, delicately softened with condensed milk, and enjoyed cold. If that's not your ideal, you can have it black and hot. Or warm and sweetened. Regardless of your choice, this Vietnamese coffee is like a dream that's been turned into a beverage and is well worth your attention.
4909 17 Ave. SE, phodaubovietnamese.com
12. Doughnuts at Native Tongues
These treats are affectionately regarded as one of the finest additions to the Calgary dessert scene. Yes, they are just doughnuts, but their austerity should by no means make you challenge their succulence. Made in-house each and every day, the traditional donas are carefully glazed and perfected for your enjoyment. Pick up a few at lunch, and you'll be the office favourite.
235 12 Ave SW, nativetongues.ca
13. Churro Pie at Una
Yep, you read that right. It's not just a pie, it's not just a churro — it's a churro pie, and is here to make all of your wildest dreams become realities. It's composed of a vanilla custard, cinnamon sugar, chocolate ganache, and a graham cracker crust, and will have you questioning whether sharing really is caring.
616 17 Ave SW, unapizzeria.com
14. Red Velvet Cake from Glamorgan Bakery
You thought the red velvet craze was over, didn't you? Well, it may very well be to some, but thank goodness this establishment has persisted with their eminent indulgence. Being around Calgary since 1977, Glamorgan Bakery is both highly-regarded, and infinitely trusted with their goods — so maybe you should decide on the 90-piece party tray as well?
3919 Richmond Rd SW, glamorganbakery.com
15. Any Pie at Blackfoot Diner
Since 1956, the Blackfoot Diner has been dishing up local delights and fan favourite. Serving food 24 hours a day, this joint offers up some fantastic foods, regardless of your arrival time. While it seems strange to include 'any pie' as an addition to the list, it's because you simply can't go wrong with any of their choices. If you do need a starting point, you can't go wrong with their coconut cream option.
1840 9 Ave. SE, blackfootdiner.ca
16. Mango Rice Pudding at Himalayan
It isn't often you can say that you've gone for Nepali food in the heart of Canada. Himalayan has done legendary things with cuisine, and they certainly won't let you down in the dessert department either. The mango rice pudding is a perfect conclusion to an already fantastic meal, so go ahead and order one. You'll thank us later.
3217 17 Ave. SW, himalayancuisine.ca
17. Tarts from Sidewalk Citizen
This remarkable bakery has made ripples in Calgary with its delicious execution of numerous baked goods. Though the menu changes daily, you can always find something to suit your fancy. They're especially known for their tarts, so you could always start there, and then make your way through the rest of the menu.
Various locations, sidewalkcitizenbakery.com
18. Peppy Pattie at Crave Cupcakes
Cupcakes at Crave aren't just any cupcakes – they're perfectly delicate, yet substantial, and flavourful, but not overpowering. One of their finest options? The Peppy Pattie. It's a chocolate cake topped with a delightful peppermint buttercream, and of course, and splashed with red sprinkles.
Various locations, cravecupcakes.ca
19. Any Roll from Mari Bakeshop
The East Village is fast becoming a popular destination for people of all ages, and in all likelihood, it's entirely because of Mari Bakeshop. Any of their rolls are so nice to look at, you may not want to actually eat them, but each is promised to deliver in taste just as they do in appearance. The delightful sponge cake rolled with flavoured cream is what dreams are made of.
529 Riverfront Ave SE, maribakeshop.ca
20. Panna Cotta at Bonterra Trattoria
This establishment has never disappointed on this dessert. Ever. Panna cotta is always an Italian treat, but when it's consumed at Bonterra, you can be sure that it's perfectly carried out. It's an almond-y, chocolatey, and fruity vessel of what can only be described as true love.
1016 8 St SW, bonterra.ca
21. Chocolate Flan at Charbar
For some reason, flan has garnered a bit of a bad reputation in the past. Yet, regardless of whether it is due to its unique texture, its unappealing name, or the fact that Monica spoiled Rachel's birthday party with it in Friends doesn't seem matter anymore. Charbar has successfully brought the flan out from its funk, complete with salted caramel and candied pistachios.
Simmons Building, 618 Confluence Way SE, charbar.ca
22. Tiramisu at Mercato
As a celebrated Italian restaurant in Calgary, it's no surprise that Mercato has made the list for their one-of-a-kind tiramisu. It's a fantastic mesh of subtle and bold, with an airy texture and daring flavour. Sure, the description sounds more like an HBO special, but this dessert truly does deliver a delightful experience that will leave you equally strapped for words.
Various locations, mercatogourmet.com
23. Ice Cream from Made by Marcus
While their flavours change on a regular basis, one thing at Made by Marcus certainly doesn't: their commitment to excellence. They support various dietary restrictions, charities, and preferences to taste, so you could never go wrong. However, if you're still searching for a specific selection, a current fondness is held for the Valrhona chocolate and malted chocolate honeycomb ice creams. Seriously, go ahead. Treat. Yo'. Self.
1013 17 Ave SW, madebymarcus.ca
24. Carrot Cake from Proof
Proof is already a local favourite for its delightful slough of interesting beverages. As if that wasn't already enough of a reason to get you through their doors, the central cocktail bar also offers dessert. The Carrot Cake here is a legend that simply cannot be missed, and is perfectly paired with a number of their recommended potions.
1301 1 St. SW, proofyyc.com
25. Boozy Milkshakes at Clive Burger
Uh-oh. It's officially happened. Two of the most wonderful libations are together as one. Clive Burger has blown us away with their take on not only one, but three whole boozy milkshakes: Rum Raisin, Coffee & Baileys, and Bourbon Banana. While we'd recommend you try all three, it might be best to bring a few friends to split them with you …  but who are we kidding?
736 17 Ave SW, cliveburger.com
Looking for a filling and delicious breakfast? Check out 10 Greasy Spoons With Cheap Breakfast in Calgary.
By Matt Moghadam