There are so many ways to pair vegetables and wine during the warm summer months, so let's get straight to it.
Start by choosing ingredients that taste crisp on the palate by pairing vegetables with light white wines like a Sauvignon Blanc. This is a good opportunity to use leafy greens, which can be relatively challenging to pair with other wines. Other light vegetables like carrots and squash work with a Sauvignon Blanc because of the wine's acidic ability to complement the freshness of the vegetables. Seasoning your vegetables with citrus or adding flavour from chilies or spices will help balance the wine pairing.
Oaked wines like Chardonnay are best paired with sweet, starchy vegetables like corn on the cob and carrots. Or, try caramelized onions on toast as a great pairing with Chardonnay, as its subtle nature complements the rich taste of the onions. Potatoes and beans that are high in starch help balance the strong oak flavour of Chardonnay without overtaking the wine.
We commonly associate red wines with red meat; however, root vegetables are often overlooked as a great pairing with Cabernet Sauvignon. Similar to red meats, you can use a variety of methods to cook root vegetables like braising, grilling, and slow roasting to achieve flavourful results. Onions, beets, mushrooms, and yams are some examples of root vegetables that pair well with the bold taste of a Cabernet Sauvignon.
Check out the following recipes to try for yourself!
Roasted Red Beets with Dark Summer Cherry, Cabernet Vinaigrette, Farro, Pistachio Dukkah
Recipe by Bridgette Bar Executive Chef, JP Pedhirney paired with Tom Gore Cabernet Sauvignon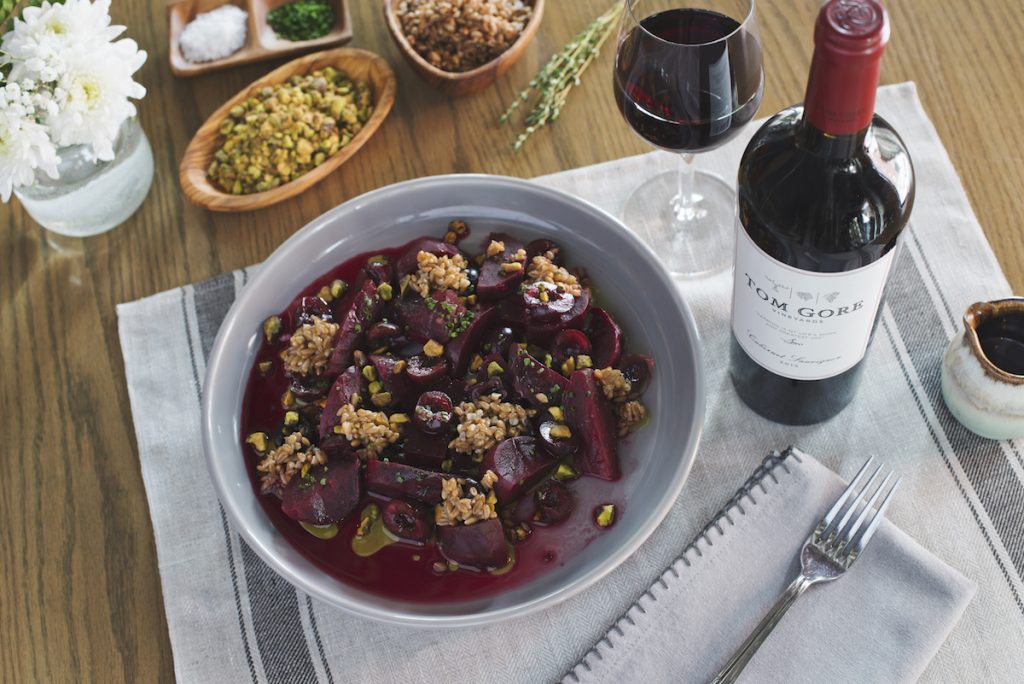 Ingredients
2 cups Roasted Red Beets cut into wedges
1 cup Dark cherries, pitted and cut in half
Cabernet Dressing:
5 tbsp grapeseed oil
1/3 cup cabernet vinegar
1/4 cup mirin
Pistachio Dukkah:
1 cup pistachios, shucked and toasted
1 tbsp black sesame seeds
1 tsp coriander Seeds
1/2 tsp cumin Seed
1/4 tsp sumac
1 tsp kosher salt
Cooked Farro:
1 cup farro
2 cups water
Garnish:
Sliced chives to garnish
Black Pepper
Maldon Salt
Method
Combine farro with water in a pot and bring to a boil. Reduce heat to low, cover and simmer until grains are tender.
Toss the beets with the skin still on in a small amount of vegetable oil, salt, and pepper. Place beets in baking dish, cover with aluminum foil and roast in the oven at 350 degrees until beets are fully cooked. You can tell when the beets are finished by poking them with a knife, moving effortlessly through the beet.
While the beets are warm lay them in a towel or rag that you don't mind turning red. Peel the beets by holding the towel to pull off the skin. Cut into wedges.
To make the cabernet dressing combine the oil, vinegar, and mirin in a lidded container. Shake well.
Combine the beets and cherries in a mixing bowl. Start by pouring 50ml of the dressing to let beets and cherries marinate while you make the pistachio dukkah.
Toast the pistachios in a 350-degree oven until lightly browned for approximately 10 minutes. Roughly crush the pistachios in a mortar and pestle, set aside.
In a pan lightly toast the sesame, coriander and cumin seed on medium heat until lightly toasted and aromas begin to release. Roughly crush the seeds in a mortar and pestle, combine nuts, seeds, sumac, and salt. Mix.
Arrange beets and cherries on a serving platter with farro. Add more vinaigrette to finish if desired, garnish the beets with pistachio dukkah and sliced chives. Season with Maldon salt as need and freshly cracked black pepper.
Why it works, according to chef JP Pedhirney
Cherry season is one of the best parts of summer, widely available at supermarkets for the duration of the season. With my first sip of the Tom Gore Cabernet Sauvignon, I immediately tasted rich dark fruit and spice notes.
Red beets and red fruit are always a nice combination and share an appealing colour contrast that is very fresh for a light summer meal.
Pistachios bring in a fatty component and balances well with a Cabernet Sauvignon.
Cabernet vinegar is a nice complement of acidic quality that doesn't interfere with the wine.
Dukkah is a traditional spice and nut blend from middle eastern cuisine, and the hints of exotic aromatics was a nice touch to the finish off the wine.
BUTTERNUT SQUASH FRICASSE WITH SAFFRON, ORANGE, TARRAGON, PUMPKIN SEEDS AND URFA PEPPER
Recipe by Bridgette Bar Chef, JP Pedhirney paired with Tom Gore Sauvignon Blanc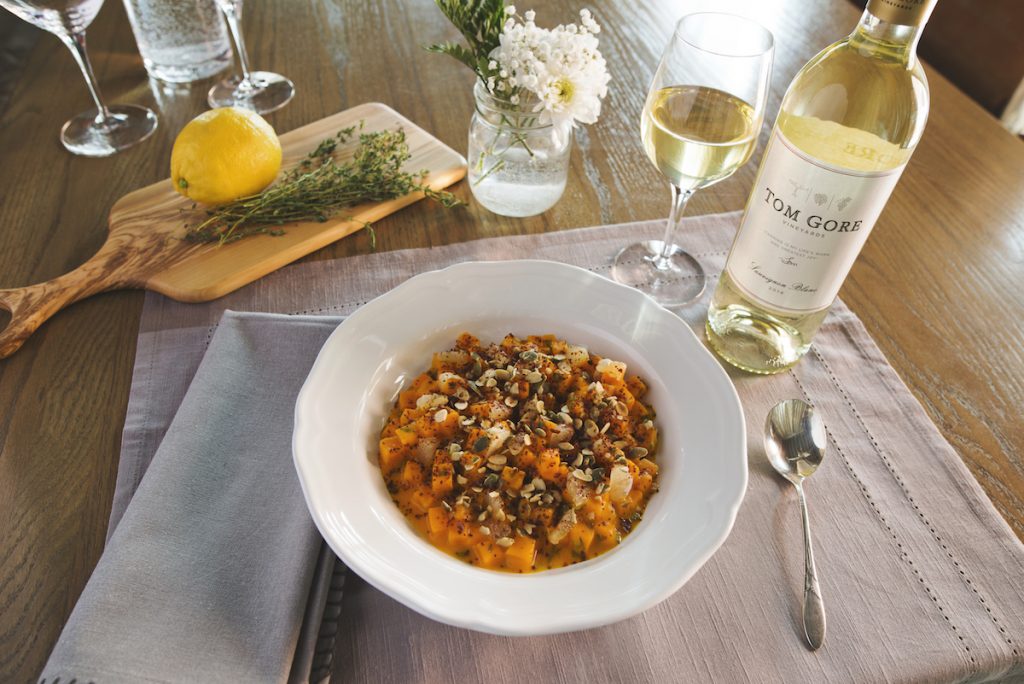 Ingredients
4 tbsp olive oil
850 g to 1 kg butternut squash
½ white onion, sliced thin
1 cup fresh orange juice
2 cups vegetable stock
1 pinch saffron
2 tsp freshly chopped tarragon
½ cup toasted and chopped pumpkin seeds
1 lemon, segmented
2 tsp Urfa Pepper (optional)
Kosher salt (roughly 2-3 teaspoons), to taste
Method
Cut the butternut squash in half separating the bulb from the neck (the bulb will be used to make a puree and the neck will be used to cut into cubes). Using a peeler, peel off the skin of both pieces of squash and set aside the neck of the squash.
Cut the bulb in half and remove the seeds using a spoon. Slice the bulb of the squash into thin slices, do not worry about shape or size.
Add 2 tablespoons of olive oil into a sauce pot and begin to warm. Add the sliced butternut squash bulb and the sliced onion, season with a pinch of kosher salt. Cook on medium heat until the onions become soft and slightly translucent, stirring occasionally for 5 minutes.
Once the onion is cooked add the orange juice and simmer for 30 seconds, then add the vegetable stock and simmer on medium heat until the squash is nice and tender. Add the saffron and steep for 2 minutes. Transfer the liquid to a blender and puree until smooth. You should end up with roughly 1 litre of puree, you will only need 500ml. Set aside.
Using a sharp knife cut the neck of the squash into ¼ inch cubes. Add the last 2 tablespoons of olive oil, heat until hot in a sauté pan. Add the squash and cook until squash has developed a little bit of colour and is tender, stirring frequently for 5 minutes.
Once the squash is cooked, add the 500ml of puree to the pan. Remove the pan from the heat constantly swirling the mixture to allow the natural starches to incorporate. Quickly add the fresh tarragon and season to taste with the remaining kosher salt.
Use a large spoon scoop the mixture into a serving bowl, garnish with lemon segments, toasted pumpkin seed and a sprinkle of Urfa pepper. Serve hot.
Rationale
This is a vegan dish, but I started thinking about similar flavour profiles of what I would usually serve with fish.
The light mineral notes in the wine gave me queues to begin with saffron, an ingredient that pairs well with Sauvignon Blanc.
Saffron and orange pair well together and because of the citrus notes in the wine.
Squash and citrus always work very well together. Lemon segments are very important part of this dish, balancing the sweetness of the squash to keep the overall pairing clean and fresh.
Using pumpkin seed adds unique texture while tarragon gives the herbal quality. Urfa pepper, if one can find it at a specialty store, gives the dish an exciting and subtle kick.