Keep things hot and fresh with the most important person in your life — your fine self — by hitting one of these Calgary (and not so far away) hot spots that are perfect for a party of one.
The Plaza Theatre
Going on a solo movie date might feel a little awkward, but once you give it a go, you'll realize there's nothing to feel self-conscious about. Hitting up a spot like the Plaza Theatre in Kensington makes it so much less awkward, especially when you're single. It's a smaller, denser theatre and is usually pretty quiet, especially during the week. Odds are you won't encounter tons of people there with friends and family in attendance. Overall, it's a classic, comforting space and hey, if you still feel awkward, at least you can make eye contact with the select few people around you and acknowledge the subtle bond you share as a bad-ass single individual!
Anju
There are certain foods that were not designed to be eaten in the company of others and wings of any variety are at the top of that list. If you haven't had a chance to indulge in Anju's crispy and saucy gochujang wings, you have not lived. Eat like no one is watching and let the sweat pour down your brow as you enjoy a batch of these beauties solo.
Shelter Cocktail Bar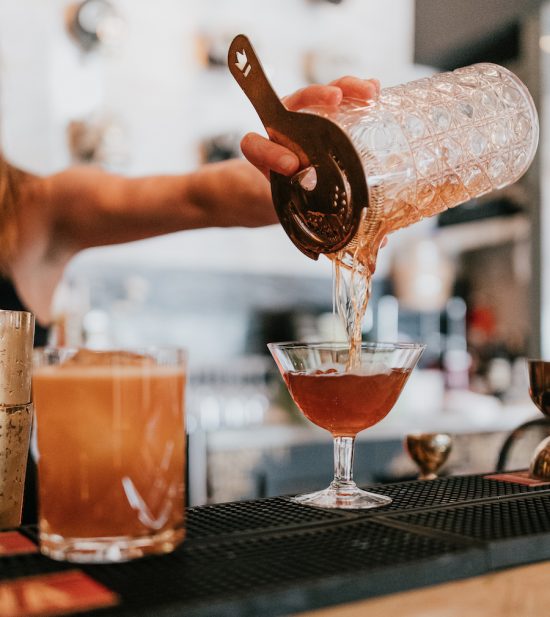 Easy to miss, but not so hard to fall in love with, this intimate little spot is perfect for a party of one and, like a good fallout shelter should be, they're even prepped for those "forever alone" folk this Valentine's. Forget plain-old champagne or red wine, sip a cocktail to perfectly match your Valentine's mood from "Love" to "Bitter(s)" or "Melancholy" to "Complicated."
Elbow River Pathway
Our urban version of Forest Bathing.  If you want a few moments to yourself off the beaten path, a walk along the river should be a go-to.  It's close for most downtown folk and not a bad way to spend a Sunday morning when the weather picks up. Not to mention the views and solitude are amazing.  
Winefest  
If you can't be happy about your singledom, you can always go to Winefest and get drunk on delicious wines from around the world at this all-inclusive event. Yep, one ticket price gets you all the wine samples you could ever hope for, plus a few treats. But rather than drowning in your supposed sorrows, own it and enjoy it. Cruise from booth to booth skipping the awkward first date silence and chat with the wine principles who will be more than happy to tell you about their amazing wine. Better yet, buy your favourite bottle from the pop-up liquor store at the event and bring it home to enjoy in a hot bubble bath.
Get your Winefest tickets here!
Ricardo's Hideaway
You might already know Ricardo's for their amazing selection of rum-based cocktails, but we can't hit home enough how amazing every dish on their menu is. They're great for sharing, but once you've sampled a bit of everything, that might be out of the question. Hit up happy hour every Thursday to Saturday from 4 p.m. to 7 p.m. and enjoy $8 daiquiris and piña coladas with your Maui Ribs and empanadas.
http://www.ricardoshideaway.ca
Kananaskis Nordic Spa
The Vern team recently took a much-needed retreat to the hottest spot in Kananaskis and could not have come away happier, but we can't help but imagine how much better it would have been as a party of one. Truthfully, even if you arrive as a group, you'll eventually break away from everyone you came with to move through the different saunas and pools at your own pace, so why even head up there with anyone besides yourself? Bring a good book and enjoy everything the spa has to offer without worrying if anyone else is ready to head out.
The Glenbow
https://www.instagram.com/p/Btb5-lIh4dl/
Everyone has a different museum pace and, honestly, two is a crowd when it comes to reading those little info placards. When you head it alone at the Glenbow, you can take in as much or as little culture as you want. For any fashion lovers out there, the current Christian Dior exhibition is the perfect place to indulge in an exquisite experience tailored for a solo outing.
The New Public Library
Get lost in the architectural wonder that is our new Central Library. Browse the shelves, record your first podcast or grab a coffee from Lukes and just bask in the fact that this is the first thing to make libraries cool since Arthur clued you in about the best way to have fun.
Want to take in some more art and culture with your fine self? Check out our preview of The Female Lens happening at the Christine Klassen Gallery for Exposure Photography Festival.