If you haven't already noticed, poké bowls (pronounced "POH-keh") are the latest food trend to be taking over Calgary. Consisting primarily of raw, cubed fish served on a bed of rice, noodles, or greens, each bowl has its own fresh spin with toppings and sauces ranging from avocado to tortilla chips. While poké bowls have been wildly popular in Hawaii for ages, the unique "fast-food" dish has been popping up on menus all over the city lately. Here's our round-up of the best places to grab a poké bowl this summer.
5s17
(pictured above)
With a convenient 17th Avenue SW location, 5s17 is great for eating in or grabbing to go. It's a hassle-free experience — you just fill out a checklist of what you'd like in your bowl and they mix it behind the scenes. Sick of rice? This location also has ramen noodles or quinoa as options for your base. If you love avocado, you'll also be a fan of the huge portion you get as a topping (½ an avocado!).
Tip: Try the chili goma sauce; you will not regret it.
634A 17 Ave. SW, 5s17.com
Kona Poké
Walking into Kona Poké is sure to put a smile on your face. It has super friendly staff that seem genuinely stoked to help you. It's a build-your-own bowl system with a delicious selection of poké including the classics such as tuna and salmon, as well as octopus and a vegan option. The +15 location and delicious menu make it a popular lunch spot for the downtown business crowd, so make sure you get there early so they don't run out of your favourite mix-ins! New location coming soon to the Beltline.
Tip: Add some tortilla chips to your base for a satisfying crunch
+15, 520 5 Ave. SW, konapoke.com
 Vitality Tap

Vitality Tap prides itself on offering organic, raw, and local lunch items. Originating in San Diego, you'll truly be in a "California State of Mind" when you dig into one of their super fresh bowls. You can either create a bowl choosing from toppings like kale and walnuts, or try out the recommended recipe (which was awesome). Poké bowls are served between 11 am and 2 pm.
Tip: Top it with some jalapeños for an extra kick
420 2 St. SW, vitalitytap.com
Po-ke

Crescent Heights is home to poké hot spot Po-Ke. It also offer a build-your-own format, or you can choose from one of the many signature bowls if you're feeling a bit indecisive. Variety is key here with many different types of fish (including a "special scallop"), tons of mix-ins and toppings, and finishes such as garlic chips, coconut flakes, and pickled ginger. If you're looking to add some sweetness to your dish, pineapple and mandarin oranges are also on the menu.
Tip: Switch it up and try one of the delicious poké dogs or sushi burritos.
908A Centre St. NE, po-ke.ca
 Anju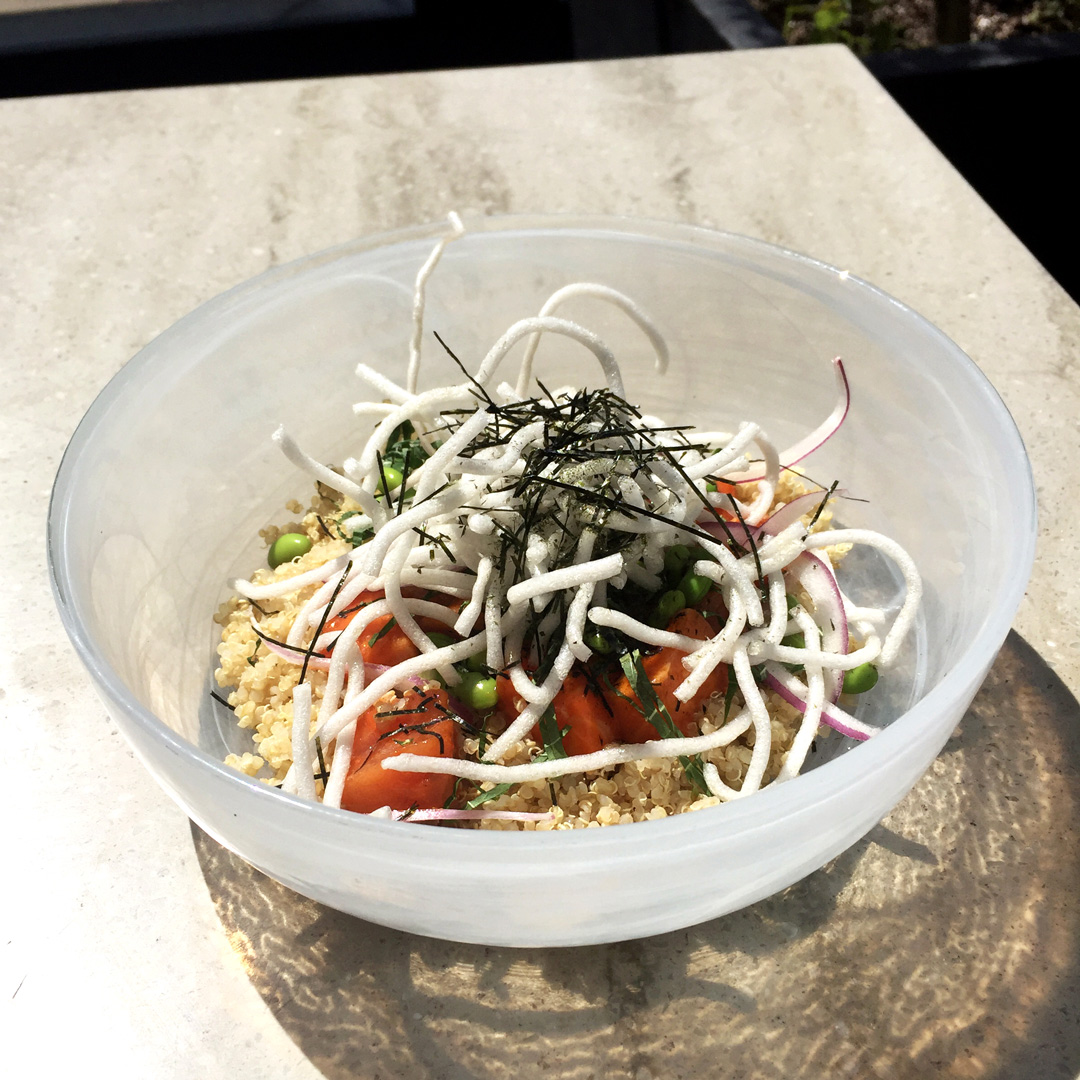 Newly re-open for lunch hour, Anju has added a fresh new poké bowl to its menu! The chef-prepared creation is made with organic salmon and tuna and has a quinoa base. It's a light and healthy lunch option, perfect to sit down and enjoy on their sun-drenched patio on 17th Avenue SW.
Tip: Pair it with one of Anju's signature cocktails for a midday treat
344 17 Ave. SW, anju.ca
By Danielle Couturier