If you thought you knew Stampede Midway food, think again. Calgary Stampede's 2019 Midway menu looks poised to redefine how we think about deep-fried foods on a stick. Pickle lovers, spice chasers, and even vegetarians alike can rejoice because with 50 new items to sample or simply gawk at, there's something for everyone on this year's midway menu.
Butter Beer Ice Cream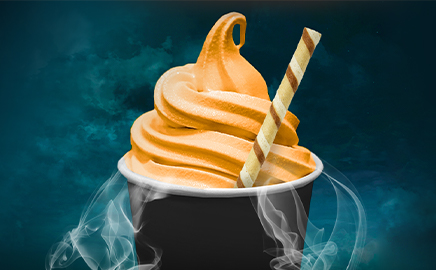 If you think Quidditch should be a rodeo sport, this is the treat for you. The creamy shortbread and butterscotch–flavoured Butter Beer Ice Cream will come in a black charcoal cone or cup with a wafer wand. And you don't even need a permission slip for Hogsmeade to try it!
Veggie Corndog
Vegetarians, if you feel like you've been missing out on the caloric goodness that is deep fried fair food, here's your chance to sample a classic. The Stampede's first official Veggie Corndog is without fuss and is simply a meatless dog dipped in classic corndog batter then fried to golden perfection.
Cereal Sugar Mini Donuts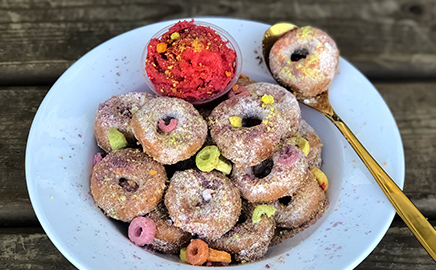 Parents be damned — there's going to be no stopping the kids (or the kids at heart) from hitting the ultimate sugar high with a bowl of Cereal Sugar Mini Doughnuts. It's part of a balanced breakfast!
Cheesy Ramen Dog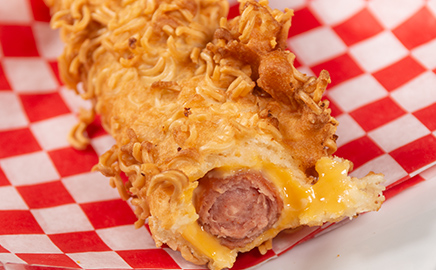 Who doesn't love some good Asian fusion? Re-live your undergrad in one crunchy and cheesy dish with the Cheesy Ramen Dog.
Cherry Bomb Pizza
Sure to spark a conversation at your next dentist appointment, the Cherry Bomb Pizza is ready to launch your mouth into orbit. This sweet and savoury pizza has a honey-garlic Sriracha base, pepperoni, bacon, maraschino cherries, and a drizzle of Sriracha. What truly gives it that blast-off effect is the sprinkling of Shock Rocks popping candy.
Devil's Ramen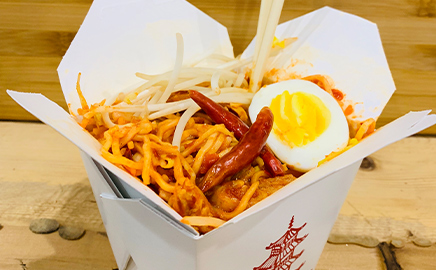 We're excited to see how the Devil's Ramen stacks up against the face-melting fare of Noodle Box. Here's hoping this spicy box of noodles loaded with chicken and fresh vegetables, topped with a medium-boiled egg will have us regretting our choices.
Curry Wurst

One of the most popular German sentiments is the concept of Gemütlichkeit, a word that encompasses sensations of coziness, contentment, and warmth. If we had to translate this concept into a food, it would have to be Curry Wurst: bite-sized pieces of fried pork sausage seasoned with spicy curry sauce. Wunderbar!
Pickle Ice Cream
Stampede is bringing you a hot summer trend you had no idea about in the form of Pickle Ice Cream. This vanilla ice cream is infused with the tangy taste of pickles that aficionados will adore. For everyone else, we say, dill with it.
Flamin' Frog Legs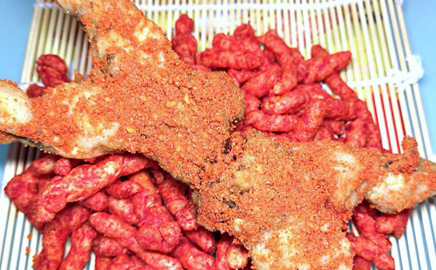 A hot take on a Parisian specialty, these Frog Legs are breaded with Flamin' Hot Cheetos crumbs and flour, fried and then dusted with more Cheetos. We're pretty sure any French brasserie would be proud to serve this on its menu.
Deep-fried Ice Pop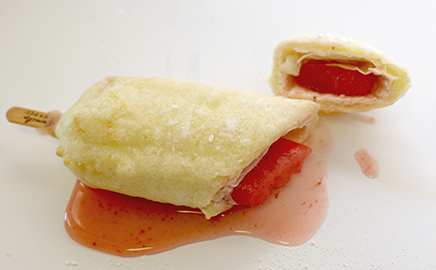 Family Freezed is Stampede Midway legends and they've done it again with their Deep-fried Ice Pop. Scratch your head in wonder while you enjoy their raspberry, root beer, or cotton candy ice pops deep fried.
King Spammy
Move over spam and eggs, there's a new king on the block. The King Spammy is a super foot-long dog topped with freshly seared pieces of Spam, pineapple, and cilantro. While most of the Vern team is hesitant to jump on board with this dish, we've got at least one excited member who will be queuing up for it!
Octo Leg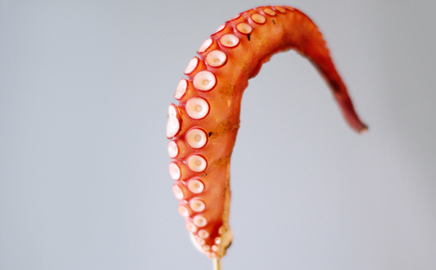 A little freaky and whimsical, this deep-fried tentacle on a stick is guaranteed to help you rack up the likes on your Stampede Insta posts. That, or you can chase around your squeamish Midway companions.
Monster Bug Bowl
Prepare yourself for the protein of tomorrow with the Monster Bug Bowl. Set in a handmade waffle, this ice cream dish is topped with edible (and we're assuming crunchy) insects!
Tipsy Tacos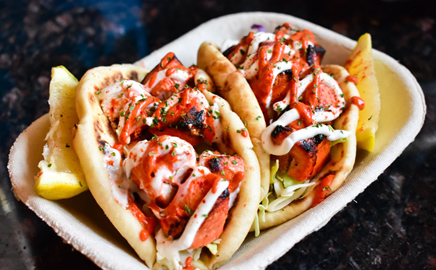 Free up a hand and get your tacos and tequila all in one easy to carry meal! The Tipsy Tacos are chicken or beef tacos infused with tequila and, since no one ever walks a straight line on the Midway, why not get two?
Creamy Truffle Lobster Dumplings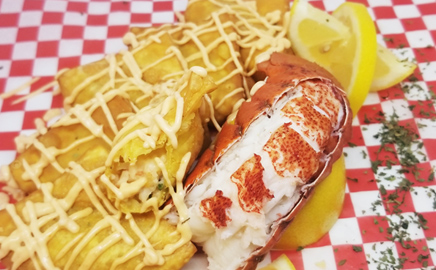 Hey, big spender. Why not put your money where your mouth is and give these mouth-watering Truffle Lobster Dumplings a try? Filled with a generous portion of lobster, cream cheese, garlic, green onions, lemon and parsley and topped with spicy truffle mayo, fried shallots, and a whole lobster tail, these dumplings are sure to be a Midway fav for any east coast visitors.
Pizza Perogies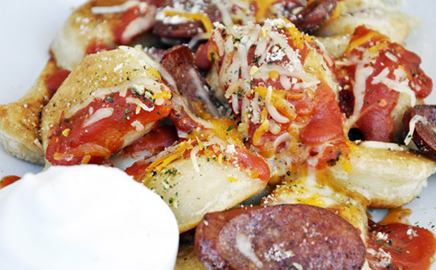 A union we would readily give our blessing to, these Pizza Perogies are serving us Miley Cyrus/Hannah Montana realness.
Beyond Meat Pizza
Beyond Meat is bringing you their take on 'za with a revamp of Stampede's vegetarian thin crust flatbread. Made with organic, 100 percent vegetarian ingredients, this slow-roasted flatbread has a generous layer of organic spring lettuce and deliciously roasted Beyond Meat sausage. Cheers to Calgary's underestimated veggie crowd!
Rose Lemonade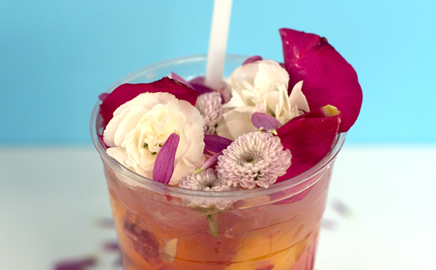 We're putting money on this Rose Lemonade as the 2019 Midway menu's Insta star. Expect to see this blend of fresh raspberry and edible rose lemonade heavily filtered and upload to your social network of choice. #roseallday
Looking to do some self-improvement before the cheat week that is Stampede? Why not find out why giving up coffee might not be the way to go.