While one may be drawn to these local spaces for the beer, caffeine or delectable eats, the art on display is just as much a good reason to check them out. Expose yourself to some of Calgary's creative talent while enjoying your favourite beverage and a bite to eat at these local haunts.
Higher Ground Café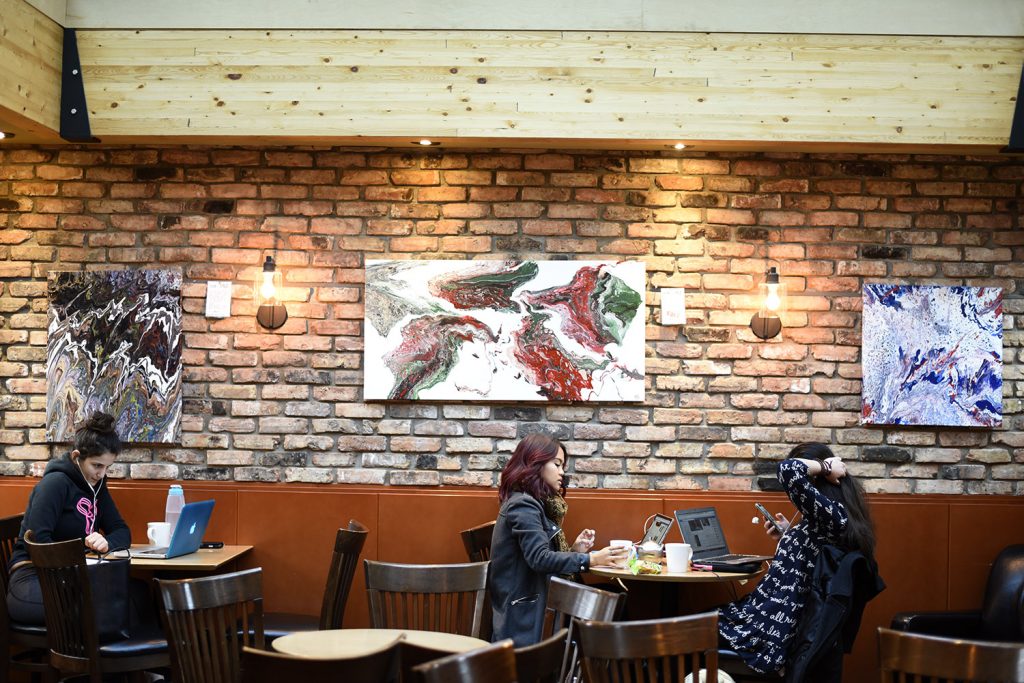 Family owned and operated since 1982, Higher Ground is an institution. Along with featuring a cosy and eclectic space, fantastic cakes and organic coffee, the space is also dedicated to providing local artists a platform to display their work. Rotating every two months, the front of the café typically displays photos, while paintings are allocated space at the back of the café. Currently on display are works by Patricia Dehaeck and Reem Laid.
1126 Kensington Rd. N.W., 403-270-3780, highergroundcafe.ca, @highergroundcafe
Vendome Café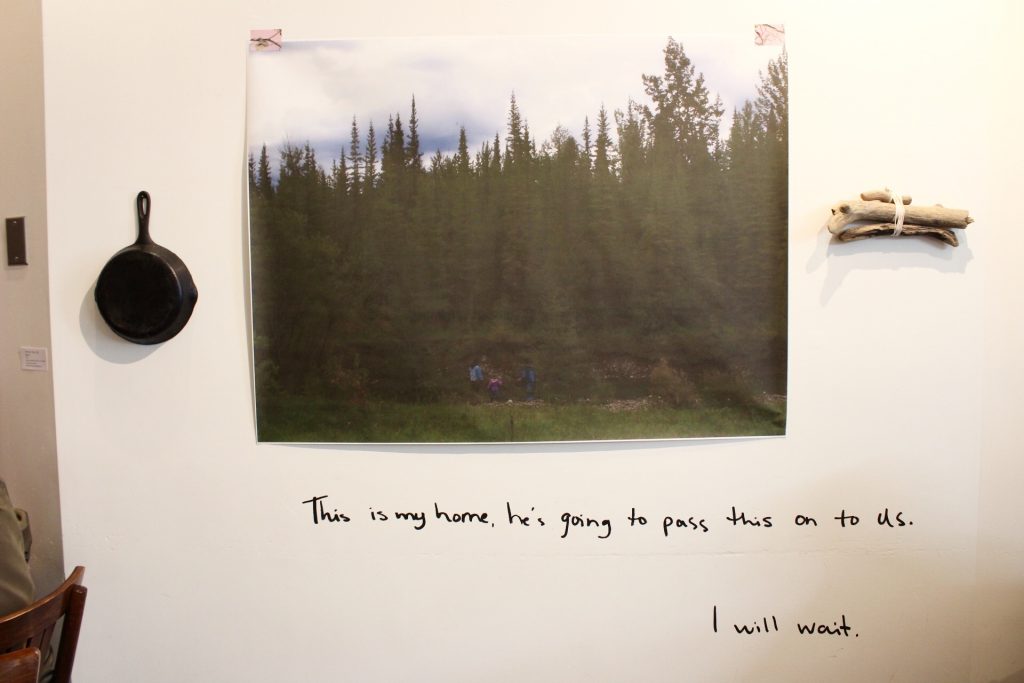 Vendome Café truly is a little European oasis in the middle of Sunnyside. The beautiful, well-lit space is perfect for brunching or letting your creative juices flow over a latte. The café is also an ideal spot to look at local art, and its present exhibition features Rocio Graham (rociograhamstudio.com), an ACAD undergraduate whose photography surrounds themes of motherhood, domestic labour and consumption. Previously, the café highlighted work of its staff members with the exhibit Soft, Medium, or Hard. The collection included pieces by Paul Agecoutay, Brittney Bear Hat, Britta Kokemor, Steven Klein, Stephanie O'Brien, Jeff Wiehler, Zander Hamm, Hannah Abma, Alyssa Hanke, Mabel Tan, Shandrie Woodward, and Natalia Barberis.
940 2 Ave. N.W., 403-453-1140, vendomecafe.com, @vendomeyycGravity Espresso & Wine Bar
Gravity Espresso & Wine Bar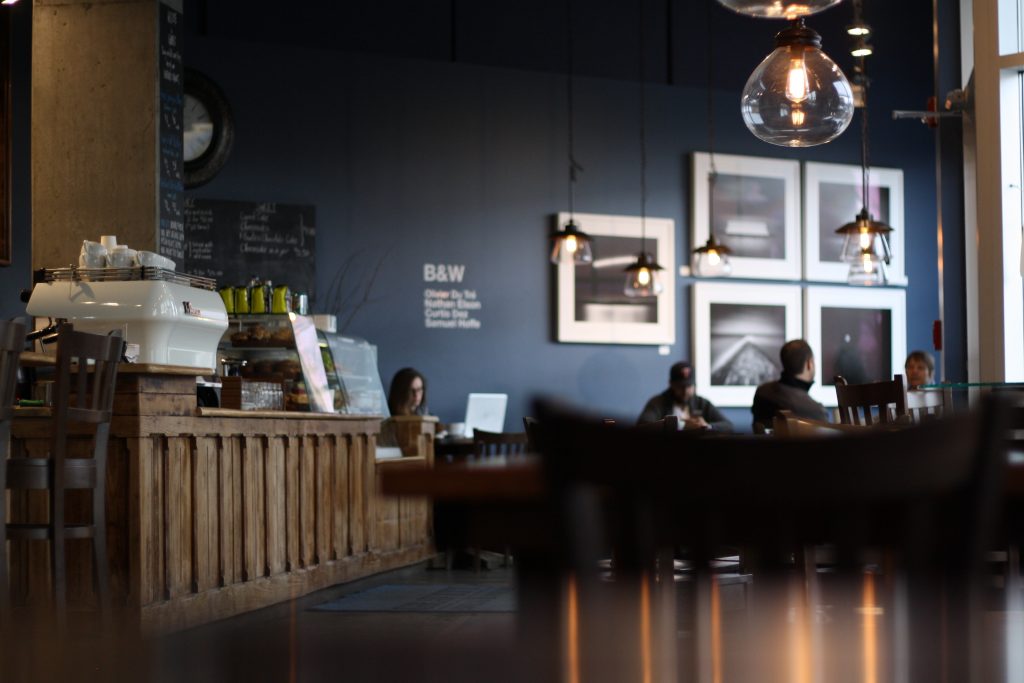 Tucked away in Inglewood, Gravity is a perfect spot for both art lovers and caffeine fiends. The café's interior emulates a gallery and is ideal for displaying local artwork. The space rotates exhibits every quarter, and is curated by local photographer Jeremy Fokkens (jeremyfokkens.com). At the moment, Gravity is featuring the work of James Lay (laycreative.com). Lay is a graphic designer whose work also graces the Gravity to-go cups. The next show coming up in October will feature landscape photographer Kristofer Schofield (istaphoto.com).
909 10 St. S.E., 403-457-0697, cafegravity.com, @cafegravity
Purple Perk Coffee Market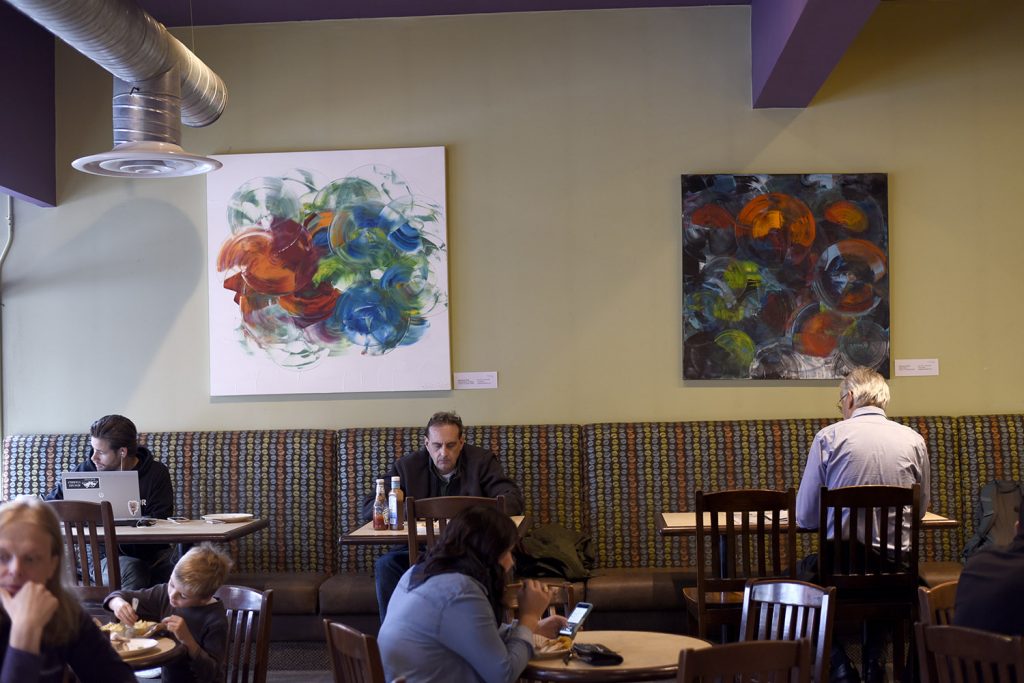 Purple Perk's art on display is curated by Latitude Art Gallery (latitudeartgallery.com) and is featuring the work of Stephanie Rivet (stephanierivet.com) — a Montreal-based abstract painter — and Erin Brekke Conn (erinbrekkeconn.com) — whose landscape paintings are almost reminiscent of collage. The exhibits rotate roughly every six weeks, with Lisa Kozokowsky (lisakozokowsky.com) and Rachelle Brady (rachellebrady.com) being featured next.
2212 4 St. S.W., 403-244-1300, purpleperk.com
Philosafy Café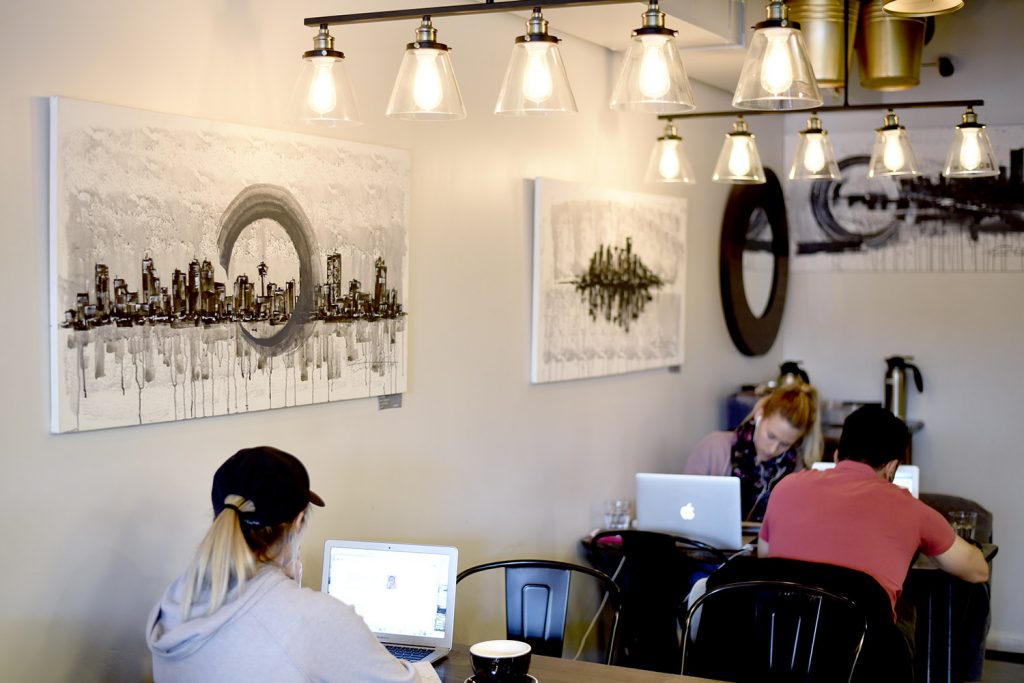 Philosafy's cool, contemporary space is perfect for displaying local art. The space is currently featuring Erika Voith, and while they do not yet have another artist lined up to replace Voith's contemporary portraits and cityscapes, the space is on the look-out for another artist that will match the café's vibe.
632 17 Ave. S.W., 403-454-3177, philosafy.com, @philosafy
National on 17th Collective Arts Brewing Tap Takeover & Art Show
Collective Arts Brewing  is taking over National on 17th on Oct. 1, and they are bringing along local artists for the ride. Based in Ontario, the grassroots craft brewer aims to fuse the creativity of craft beer with the talents of emerging artists, musicians and filmmakers. Swing by the event and feast your eyes on art from home, while sipping on a pint — or two — from out east.
550 17 Ave. S.W., 403-229-0226, ntnl.ca, @nationalbeerhall
Bridgette Bar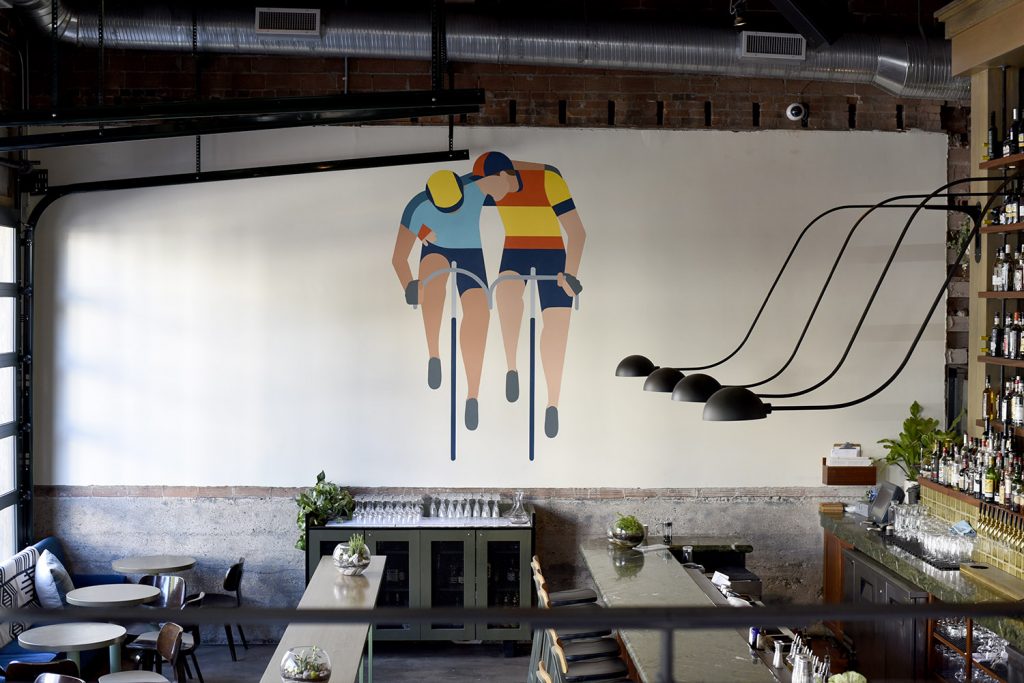 While not featuring a rotating gallery space, Bridgette Bar's mid-century modern aesthetic is artful in and of itself. Designed by Frank Architecture , the restaurant interior includes details such as photographs of Brigitte Bardot and Robert Redford, a mural beside the bar and menus designed by UK-based artist Rob Bailey and terrariums created by Calgary-based company, Zenscapes by Emily Gillis (zenscapesbyemily.ca).
739 10 Ave. S.W., 403-700-0191, bridgettebar.com, @thebridgettebar
Calcutta Cricket Club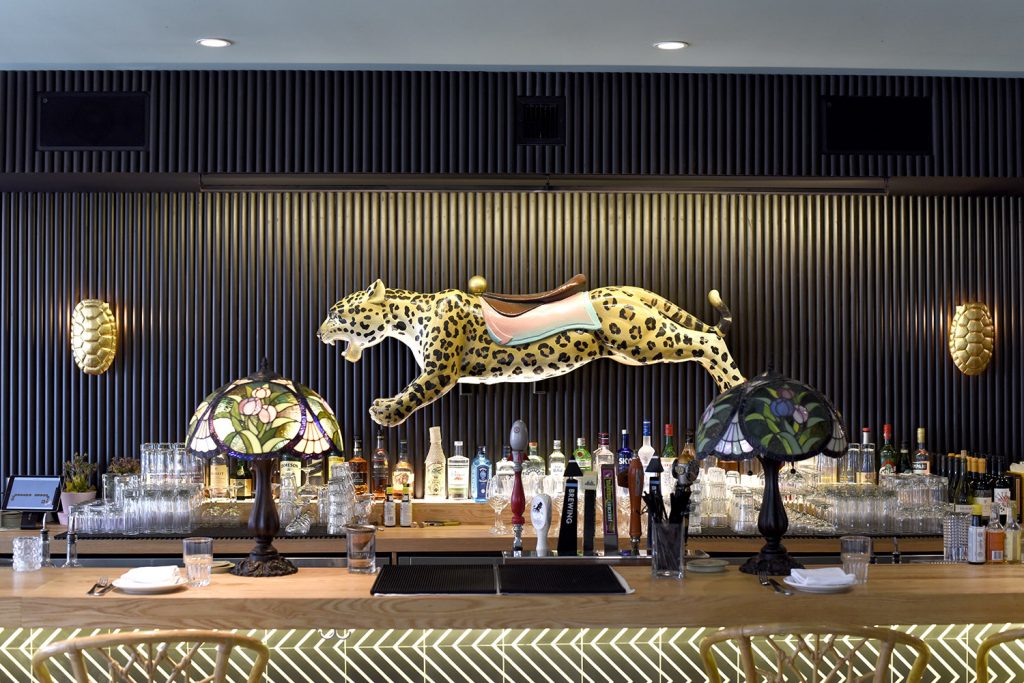 Like Bridgette Bar, although Calcutta Cricket Club does not feature a rotating collection of work created by Canadian artists, the space was designed by renowned Calgary talent Maya Gohill (mayagohill.com) and is more than worth paying a visit to absorb the artists' vision for the space. The restaurants' green and pink pastel theme is tied together with an alternating black and white tile floor and details such as the vintage leopard sculpture hanging regally above the bar.
340 17 Ave. S.W., 403-719-1555, calcuttacricketclub.com, @calcuttacricket
Una Pizza + Wine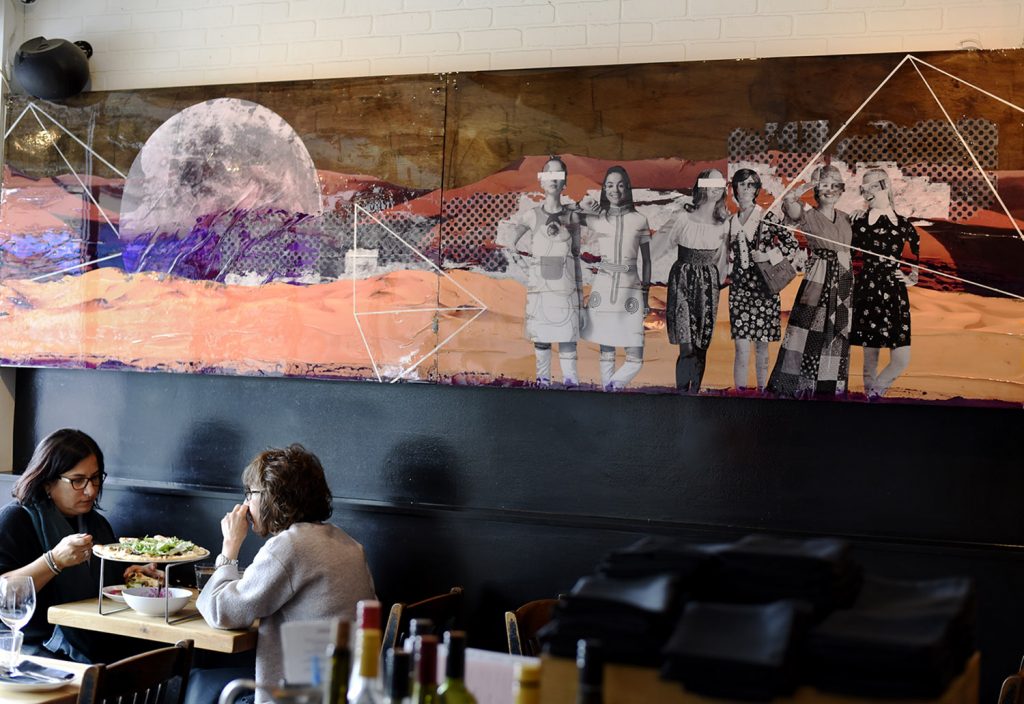 Una is a Calgary staple for many a pizza lover. Yet, Una is also worth a trip to check out local artwork (in addition to picking up a Beltliner pie — so delicious). Exhibits alternate four times a year. The restaurant presently features self-taught, Calgary-based artist Elysia Rose (elysiarose.com). Coming up next, Una's walls will be wearing work created by Tony Wong, (tonywong.ca), who's paintings also grace the newly opened Bread and Circus (breadandcircusyyc.com). Inside Bread and Circus, Calgarians can find two Roman-inspired murals by Wong: a diptych featuring a Corinthian column behind the bar, and a magnificent triptych depicting a reclining figure adjacent to the bar.
616 17 Ave. S.W., 403-453-1183 unapizzeria.com, @unacalgary
616 17 Ave S.W., 403-476-3615, breadandcircusyyc.com, @breadandcircustrattoria
Winebar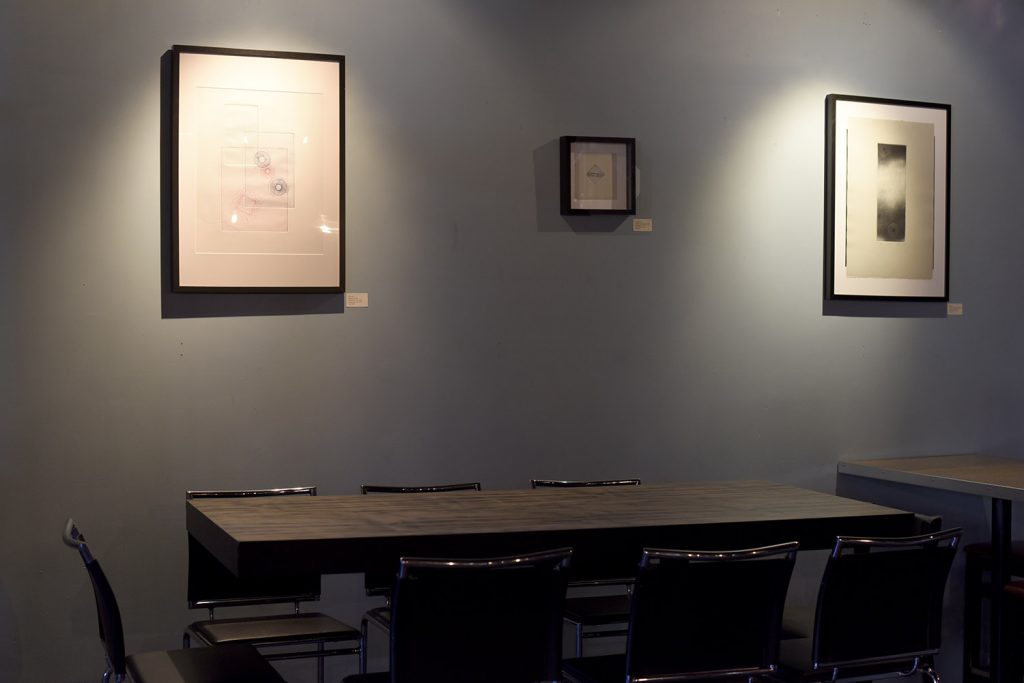 Tucked away beneath Kensington Road, Wine Bar's cosy interior also provides space for local artists to showcase their collections. Additionally, the restaurant hosts an opening reception for each new artist featured in the space. Exhibits rotate every two to three months, and a visit to Wine Bar at the moment will see Baljit Kharey's (baljitkhareyart.wordpress.com) minimalist artwork highlighted on the restaurant's walls.
1131 Kensington Rd. N.W., 403-457-1144 winebarkensington.com, @winebarkensi
Check out Tiffany Wollman's art here. She'll be one of the artists at the National on 17th Collective Arts Brewing Tap Takeover & Art Show
By Sarah Comber