The last days of summer are upon us, and that means we'll have to start saying farewell to one of the best parts of summer. In the final installment of photographer Sebastian Buzzalino's Calgary balcony garden series, we tour Lee's super retro outdoor space.
Why did you decide to spruce up your balcony with a garden?
I've always had vegetable gardens in my life. As a young girl helping my grandma and grandpa harvest their's on the farm, then living with my dad as a teen, our whole backyard was a garden, and when I bought my first house, we made the backyard into square foot gardens. This was my first summer living in an apartment, not having my own yard, so I made a mini version of a backyard garden.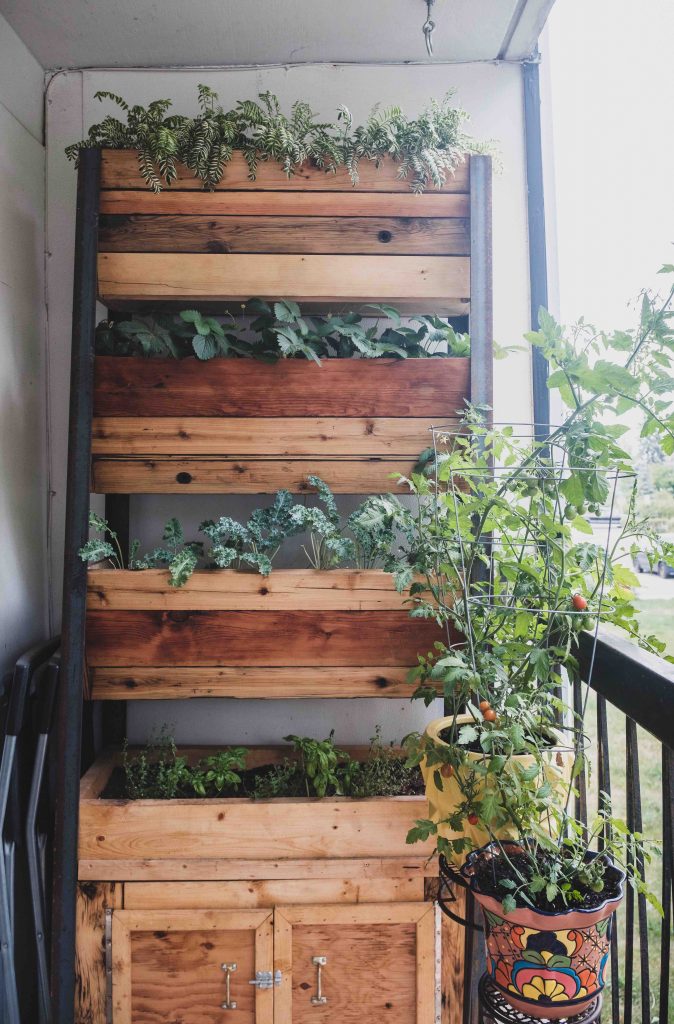 Can you describe your garden? And what's the vibe?
The style or vibe I'm going for is, like grandma's kitchen, with a little bit of a rustic feel, finished with some modern touches.
What kinds of plants do you grow?
I grow foods that I thought would do well in containers — I have tomatoes, kale, strawberries, salad greens and some herbs growing this year, all worked out fairly well, although the bounty doesn't compare with the backyard gardens that I've had.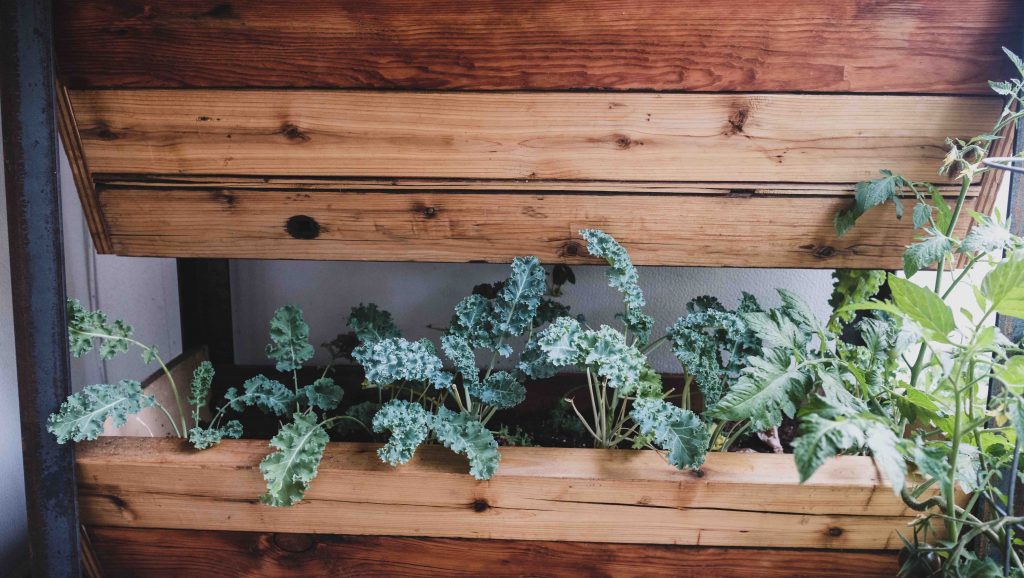 Where do you shop for plants?
My plants came from Community Natural Foods and Planet Organic market this year. The greens are started from seed and the rest were pre grown.
Where do you shop for your pots?
My pots and furniture are a mix of repurposed, vintage and new. My friend Lane Shordee built my beautiful garden boxes, all from repurposed materials! The vintage chairs were from a thrift store, and most of the pots were from Winners. They have such a great selection and cost less than a garden centre.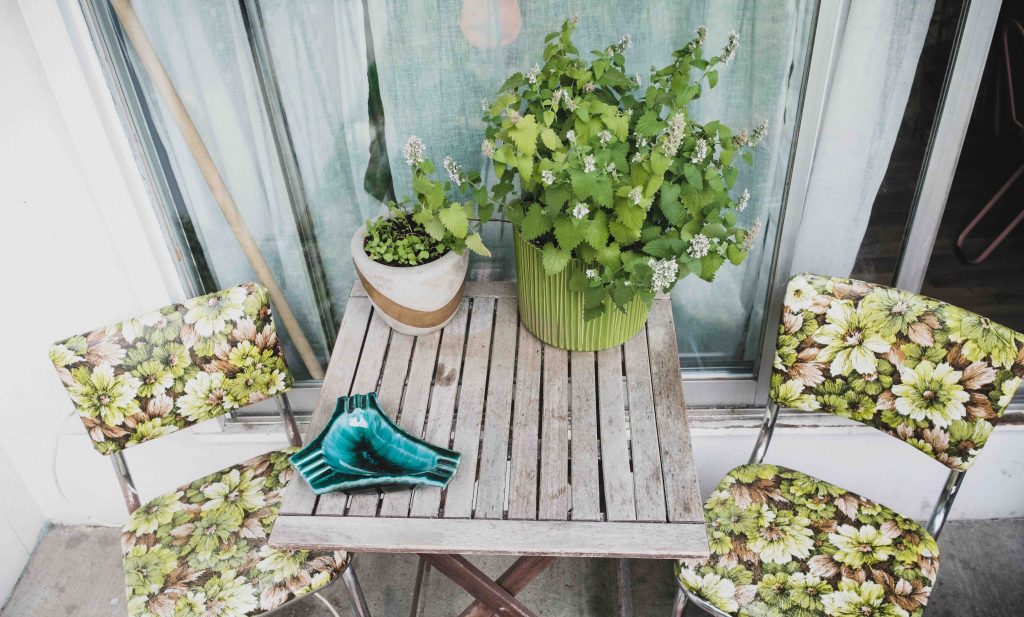 I swear my grandma had those chairs (and the organ!). What's your decor inspiration for your garden?
I just love style from the '50s to the '70s — there a bit from all of those eras in my home, and I carried that into the inspiration for my balcony. The dog's bed is a beautiful crocheted quilt that someone's grandma made. I like to repurpose and reuse to make less of an impact on the planet.
What's the hardest to keep alive?
Everything grew fairly well, but my strawberries didn't have much of a turnout. Not sure why. I'll have to try something different next year.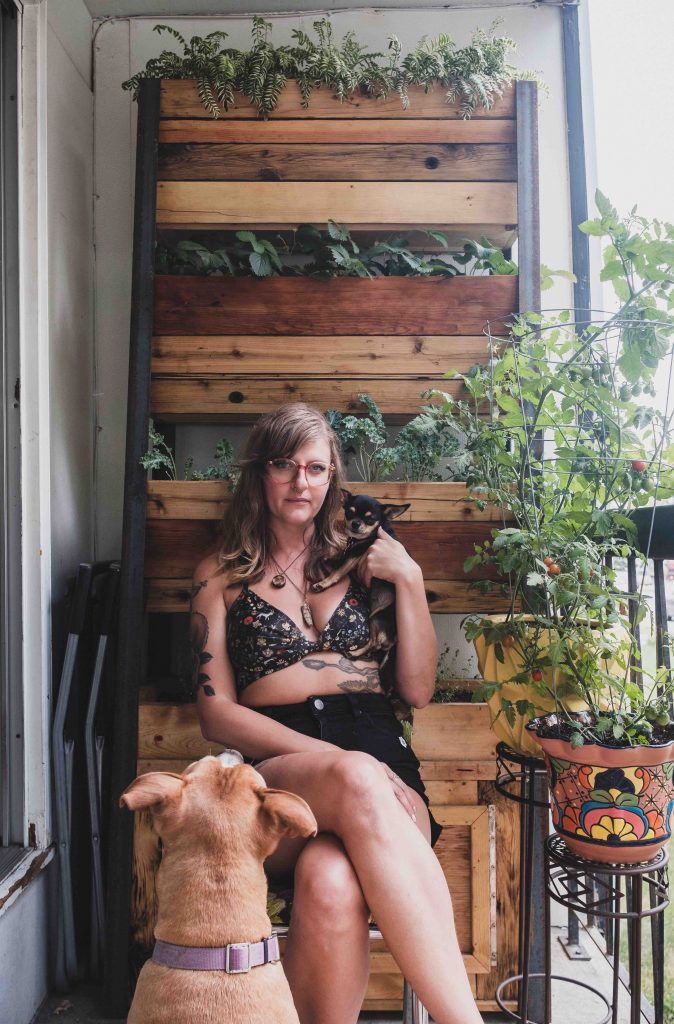 Anything else you'd like to share about your garden?
It's been a learning experience having a small container garden. I think next year I'll try some different things, but there's nothing quite like making a salad from your balcony, that you helped grow and nurture. I love sitting out there with my morning smoothie, sun on my face, smelling the tomatoes and basil.
Photography by Sebastian Buzzalino; check out his past two garden series stories here and here.