Sure, fries are great and all, but sometimes you just want your deep-fried potato in a squat, tot shape.
Once a TV dinner staple, tater tots are now a retro side dish that please deep-fried potato-lovers everywhere and rival fries of all shapes, whether they're curly, crinkle-cut, wedged or served on a huge stick. While you still have to search a little to find a place with tater tots on the menu, they're making a comeback. We know of eight local eateries serving tater tots, all in tasty ways that would make Heinz proud.
Yup, we're saying it. Tater tots might be the new (but, actually, retro) "it" side dish.
Eats of Asia

The dish with the tots: Japa Tots
While they're on the regular menu now, there was a time in Eats of Asia history when Japa Tots didn't exist. The stall's first tater tot dish was a one-off special called Bibim-tots (a twist on the Korean bibimbap dish). Then came the Thai curry tots. But then came the Japa Tots, and because they were the most popular, they've stuck around. You'll get a heaping dish of crispy tater tots with green onions, fried spam, teriyaki sauce and Japanese mayo. You can even be a little different and order it with a fried egg on top.
Calgary Farmers' Market and Crossroads Farmers' Market
National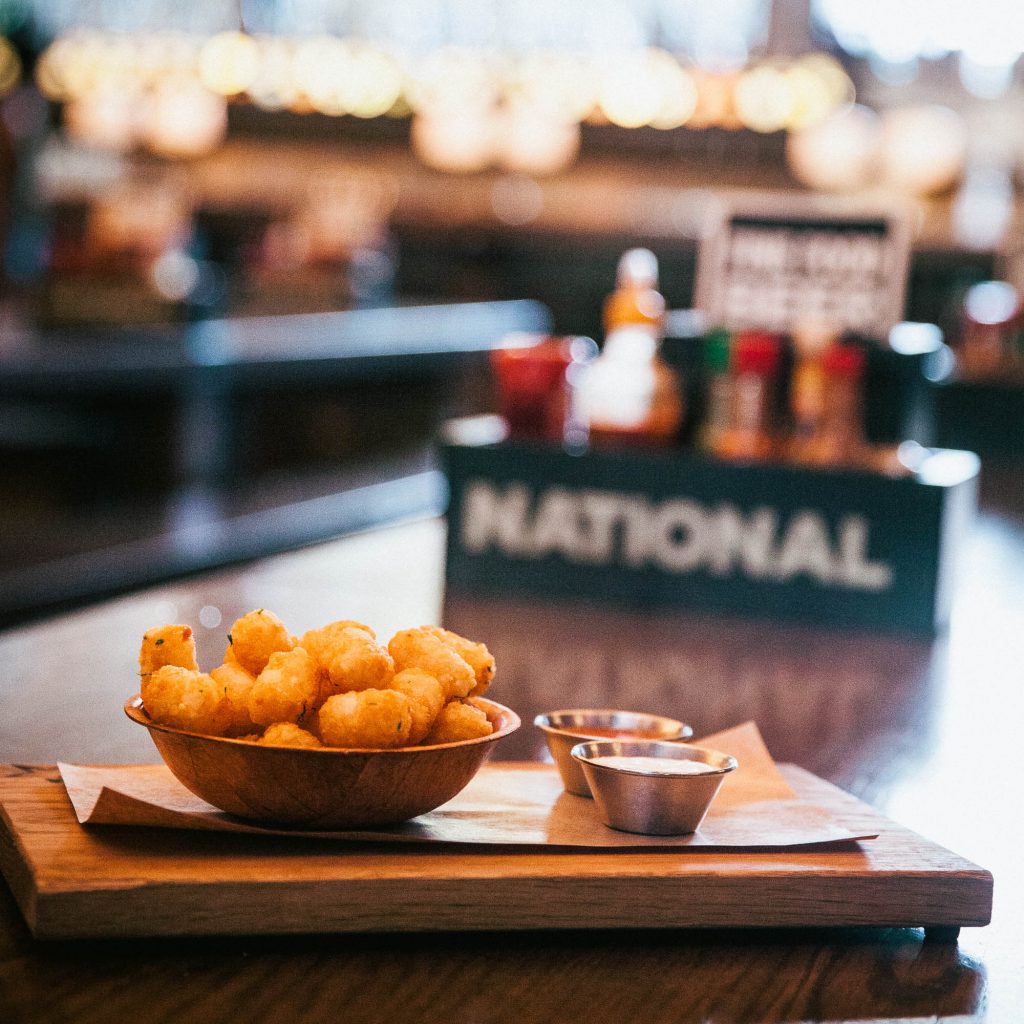 The dish with the tots: Tater tots as a side dish
Even though all National locations serve the fries with Clive sauce and that can be hard to pass up, go for something different from the usual and try the tater tots. Or just get both. They come with Valentina's hot sauce and ranch sauce, both perfect for tot-dipping. You can also order tots as a side option with all the sandwiches and burgers.
Multiple locations, ntnl.ca
Grate and Barrel
The dish with the tots: Tater tots with nacho cheese
While Grate and Barrel is mostly about the grilled cheeses, tater tots are also on the menu. They're a side dish here and they're served covered with that liquid nacho cheese, because, of course, it's all about the warm and cheesy here. Order them with the Golden Calgarian, a simple grilled cheese made with Kraft singles and Wonderbread.
627 1 Ave. NE, @grateandbarrel
Mango Mania
The dish with the tots: Kimchi Tots
This comes in two sizes, but you're going to want to pay $10 and order the large because you won't want to stop eating this dish. The Kimchi Tots at Mango Mania are spicy and crunchy, and the tater tots are always hot and crispy. But this dish isn't all about the tot — they're covered with kimchi, scallions and bacon lardoons, and then drizzled with garlic mayo and ssamjang. You can also order tater tots plain here, if you want a simple side dish for your bao.
1115 Centre St. N, mangomaniayyc.com
Paper St.

The dish with the tots: Na-Cho-Tots
A little bit like nachos, a little bit like fries with a bite, the Na-Cho-Tots are worth the $14. The tater tots are served with guacamole, pepper jack cheese, spicy cilantro sour cream, jalapenos and pico de gallo. You can also pay to add pork carnita on top. And, you can feel good about eating this and not just because it's really tasty. This is the restaurant's Mealshare item meaning when you buy it a meal is donated to a child in need.
102,630 8 Ave. SW, paperstyyc.com
Pig and Duke
The dish with the tots: Tater tots as a bar snack
Sometimes you only want a few tater tots, and when that's the case, head to the Pig and Duke where the tots are sold as a $5 bar snack with sambal ketchup. Order a few other bar snacks too, like the cauliflower wings with wasabi mayo and the meatballs with Guinness mustard.
503 4 Ave. SW and 1312 12 Ave. SW, pigandduke.ca
Brewsters
The dish with the tots: Tater Tot Poutine
You won't want regular poutine ever again after this. On top of Cajun-spiced tater tots are cheese curds, dill pickles, short rib and crème fraiche. There's also onion ring poutine, if you wanted to have a night with two unconventional poutines. Or, you can order tater tots as a side with your burger or sandwich instead of fries or salad.
Multiple locations, brewsters.ca
Taiko Taco

The dish with the tots: Kimchi Tots
Like Mango Mania, the Kimchi Tots from the Taiko Taco food truck come in two sizes. Here, the tater tots are seasoned before they've covered with kimchi and scallions as well as five-spice candy bacon and Taiko's signature sauce. Get the full order ($10).
Have a hankering for some rum-based cocktails? Check out our story about the cocktail menu at Ricardo's Hideaway.
By Elisabeth Kellisdottir